Kellogg's GAA Cúl Camps provide boys and girls between the ages of 6 and 13 with an action-packed and fun-filled week of activity during the summer holidays. It revolves around maximising enjoyment and sustaining participant involvement in Gaelic Games.
Activities are GAME - BASED and there is a strong emphasis placed on skill acquisition.
Activities are also organised in an age appropriate manner with a view to:
optimising learning
enhancing friendships
improving physical & psychological well being
promoting school and club links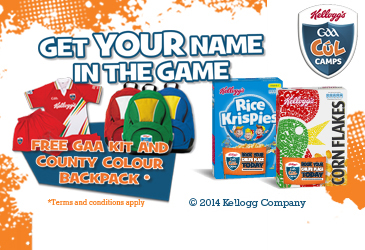 Free Kit and Backpack
New for 2014
Every child gets a backpack in COUNTY COLOURS
Every child attending a camp gets a FREE kit*
A Kellogg's GAA Cul Camp kit includes jersey, shorts and socks. Each child attending the camp will also receive a backpack in the County colours of the County where the camp is taking place.
Discounts are available to families that register more than one child for a 2013 Kellogg's GAA Cúl Camp, making them one of the most affordable national summer camps.
Remember to book early as places are subject to availability to each camp.