KEVIN.MURPHY has announced an all-new extension of the brand's renowned BLOW.DRY collection with the addition of BLOW.DRY WASH & RINSE, now offering a complete system of heat-activated style extenders and protectors. Meant to work together as a pre-styling regimen to complete the existing BLOW.DRY line, this WASH & RINSE combination will provide an in-salon solution, as well as a perfect take home product for clients who style their hair regularly with hot tools.
The perfect kickstart to the other innovative products in the BLOW.DRY collection, including EVER.BOUNCE, EVER.LIFT, EVER.SMOOTH and EVER.THICKEN, BLOW.DRY WASH & RINSE will help reduce styling friction before drying the hair, making the hair less vulnerable to damage regardless of your natural texture.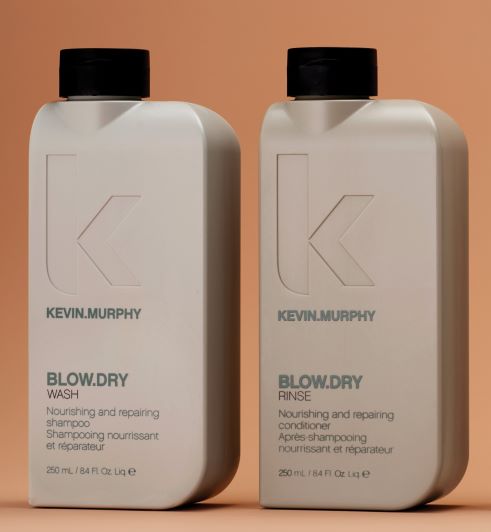 The first step, BLOW.DRY WASH, is a sulphate-free repairing and nourishing hair wash those hydrates and strengthens the hair using Hydrolyzed Pea Protein and Wood Bark Complex. The second step, BLOW.DRY RINSE, is a nourishing and repairing conditioner that forms a protective layer on the hair that guards against colour loss and environmental stressors. KEVIN.MURPHY's Anti-Breakage Technology works in both products to hydrate and protect strands against heat damage.
BENEFITS:
Hydrating
Nourishing
Strengthening
Heat protection
Colour safe
Safe for everyday use
Smoothing
"When I decided to launch BLOW.DRY WASH & RINSE, I was inspired to extend the existing BLOW.DRY line to help salons and clients achieve flawless and long-lasting styles, from start to finish. Now, we have found the perfect pre-styling wash and rinse combination to prepare the hair for the rest of the BLOW.DRY products like EVER.SMOOTH, EVER.BOUNCE, EVER.LIFT & EVER.THICKEN." – Kevin Murphy
BLOW.DRY WASH & RINSE will be available in all Irish KEVIN.MURPHY salons nationwide.
To find a salon near you, visit kevinmurphystore.ie BLOW.DRY WASH & RINSE is available for €31.00 (250ml) each and €9.00 (40ml).