Winter Wonderland at Westport House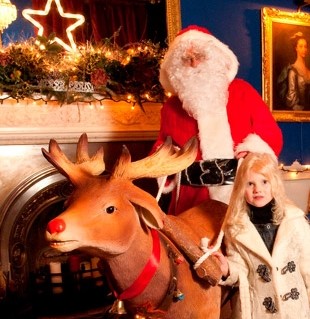 Address
Westport House
Gardens & Pirate Adventure Park
Westport
Mayo
Mayo
About
Winter Wonderland at Westport House is a magical family experience brimming with Christmas cheer that will leave the kids starry-eyed and the whole family believing in fairy-tales!
Escape the wintery weather outside for the warmth of our open fires. Soak up the twinkling lights, lush green garlands and tinsel trimmings spilling festively from every corner of Westport House as the little ones enjoy a fun-filled Christmas experience that they are sure to remember forever.
The guided Winter Wonderland experience will begin with a visit to the amazing live crib situated on the front lawn of Westport House. After visiting the crib, you will make your way inside, into the front hall of Westport House and be greeted by Santa's Little Helper who will lead your family – along with a small group of other families – through the guided experience.
You will start the journey with story-time by the fireplace with Mrs Claus who will tell the magical Christmas Story of 'Stumpa'. Your next stop will include festive face-painting, followed by learning all about the Ginger Bread Man – while decorating your own. To truly emphasise the real spirit of Christmas, be sure to make a wish at the Christmas Wishing Tree, where children can write down their wishes and hang them on one of the branches.
Kids will adore a special visit to Santa in his magical grotto where he'll have a chat with all the children, receive the gift of their very own christmas tree sapling and take photos to remember this very special occasion. After meeting Santa, you'll be captivated by the elves hard at work in the Elves Workshop where you will have the opportunity to make your own yuletide log to take home for the Christmas table!
Pop into the Old Kitchen Cafe for a free juice for the kids and a delicious festive drink for the adults where you can also enjoy homemade sweet and savory delights! Then hop on board the Westport Train to enjoy magnificent winter time views around the House before you depart.
With so much to do at our Winter Wonderland, you'll cherish the special memories your family will share of this fun-filled and blissful Christmas-time experience.
We highly recommend advanced bookings for Winter Wonderland as it is a very popular event and often sells out.
Please be sure to arrive at Santa's Grotto at least 15 minutes before your booking time to allow enough time to check in, queue and walk to the grotto.Your visit to Santa's Grotto will last 30 minutes, but be sure to allow enough time to enjoy all the other festive activities on offer! We recommend families allow at least 2 hours to take advantage of the workshops, activities and fun that is our Winter Wonderland.
For more information visit the website.
Opening times
sat November 25th at 10.00am - Sat December 23rd at 6.30pm
Prices
Babies (U1) Free
Infants (U2) €15
Children (U16) €26.50
Adults €12