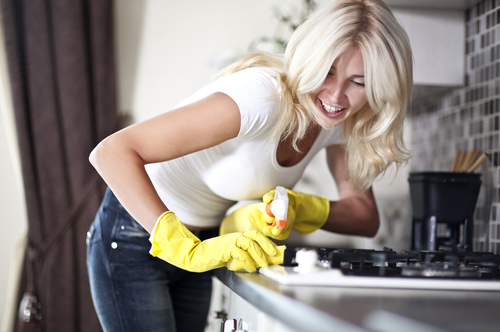 It needs to be done every day but that doesn't make cleaning any easier or in any way enjoyable!
But armed with these useful and manageable hacks, you'll be flying through your domestic chores in no time.
1. Use an old toothbrush to get into groves or corners that just won't be sparkling without a good scrub.
2. Pour some hot water into your pots and drop a detergent tablet in to lift up any burnt parts.
3. A little baking soda mixed with water will help life any coffee or tea stains off your kitchen table.
4. Say goodbye to cloudy glasses with a little vinegar and kitchen paper.
5. A little Cif or cream cleaner on a sponge will help clean up the rubber part of your washing machine.
6. Rub coarse salt and lemon into your wooden chopping board and it will look like new in no time.
7. Boil water and lemon in a microwaveable container for a minute or two before using a damp cloth to wipe it clean.
8. Remove oil stains off your backsplash by dabbing a kitchen towel in a little oil and wiping it over the old oil.