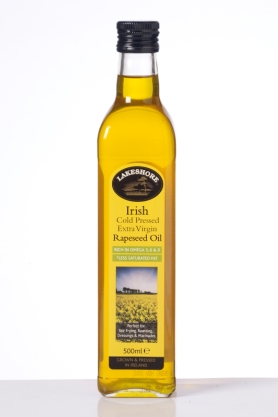 If you are looking for a healthier way to cook meals for your family then try Irish Grown Cold Pressed Extra Virgin Rapeseed Oil from Lakeshore Foods delicious range of cooking oils. This product is 100% Irish grown and is now available in Dunnes, Supervalu, Superquinn and Tesco.
Top Irish and international chefs are now using cold pressed extra virgin rapeseed oil when cooking for its health benefits as well as its wonderful taste. This oil is very versatile and contains Vitamin E as well as Omega 3, 6 and 9. It also has 30% less saturated fat and ten times the amount of Omega 3 that sunflower oil has. In fact is it has the lowest saturated fat content of any cooking oil.
Lakeshore Rapeseed Oil is cold pressed which is the simplest way of extracting the oil. This is done by simply squeezing the seed until the oil is released. The oil is then finely filtered and bottle. The process does not involve the addition of heat or the use of solvents to remove the oil from the rapeseed like traditional vegetable oil.
Lakeshore Irish Cold-Pressed Rapeseed Oil is ideal for:
Dressings: The subtle nutty flavour of the oil adds fantastic flavour. Simply mix with white wine vinegar and season with salt and pepper for a simple, tasty salad dressing.
Frying & Roasting: With its high smoke point (220°C) Rapeseed Oil will cook food evenly without burning – or smoking up the kitchen! Ideal for frying or roasting your favourite meats and vegetables.
Baking: Substitute margarine with Lakeshore Irish Cold-Pressed Rapeseed Oil when baking cakes, puddings and biscuits for a healthier option that loses none of the flavour.
Lakeshore Irish Cold-Pressed Rapeseed Oil is now available at just €3.99 for 500ml.