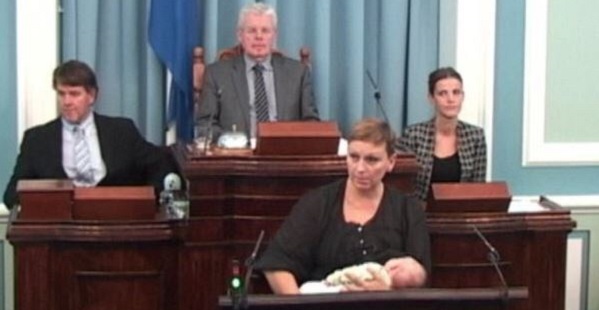 Michelle Obama is rocking our world this week, but we also need to give a special mention to Icelandic lawmaker Unnur Bra Konradsdottir.
The 42-year-old just created a very special piece of history: she has become the first person in Iceland to breastfeed while delivering a parliamentary speech.
The MP was nursing her daughter during a discussion about an immigration law on Wednesday, when she was asked to step up to the podium and give her remarks.
Meanwhile in Iceland. Breastfeeding like boss. #breastfeeding #WomenCanStopTrump #WomenIAdmire pic.twitter.com/kdogaULdvj

— Françoise.C. (@Frenchie_Brooke) October 13, 2016
So, what did she do? She stood up, walked to the podium and, while still nursing her six-week-old baby, she did her job.
In an interview given later, to Agence France-Presse, Unnur said: "She was hungry and I had not expected to go to the pulpit…So, I either had to tear the baby girl off me and leave her crying with the MP sitting next to me, or just take her with me; and I thought it would cause less disturbance to take her with me."
"It's like any job: you've got to do what you've got to do. It is the most natural thing in the world," she added.
While the incident itself may represent a national first, Unnur's little one is said to regularly attend important debates with her.
Fair play to her.
SHARE to inspire a fellow nursing mum today.