Each year we look forward to French brand L'Occitane's new summer launch. The brand not only innovates to create skin care with key benefits and efficacy but it continues to invest heavily in sustainable sourcing and working collaboratively with their ingredient farmers. This Summer's unveiling is no exception with the launch of the new Artichoke range.
The launch marks a greater focus on the concept of holistic beauty by the brand. By championing the equal importance of mind, body and soul, the collection embraces the importance of wellness and self-care to deliver high-perfoming skincare.
Why artichokes?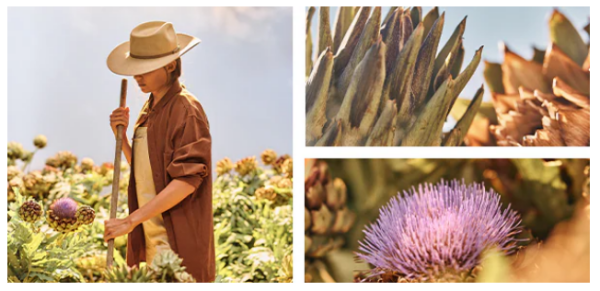 Artichokes, rich in polyphenols and inulin, are recognised for their fat-digesting, diuretic, and cholesterol-fighting properties. To turn this detox superfood into a cosmetic extract, our focus turned to the leaves, which are best known for their medicinal properties. Grown organically in the Drôme region in the south of France, it is sustainably sourced and cultivated by farmers within a French Support and Work Assistance Establishment (ESAT). The range is housed in FSC-Certified packaging, meaning the paper used is obtained from sustainable forestry, this new range continues to align with L'Occitane's brand values and an ever-present journey to becoming more sustainable.
What's in the range?
The thinking behind the three new products is centred on how to utilise a more unique approach to alleviate stress and provide a multitude of benefits. The three pillars behind the approach are:
Firming & Detoxifying - An expert body scrub to gently exfoliate and promote cellular renewal, whilst improving skin's firmness.
Sculpting & Hydrating - Artichoke Massage Cream is an expert body moisturiser that firms-up the skin and provides up to 8 hours of hydration. Combined with massage, it also helps reduce swollen and heavy leg sensation.
Maximise Your Body Care Routine - Want to take your artichoke routine to the next level? The Gua Sha massage tool is the perfect accompaniment to your self-care routine.
L'occitane Artichoke Warming Body Scrub – RRP €45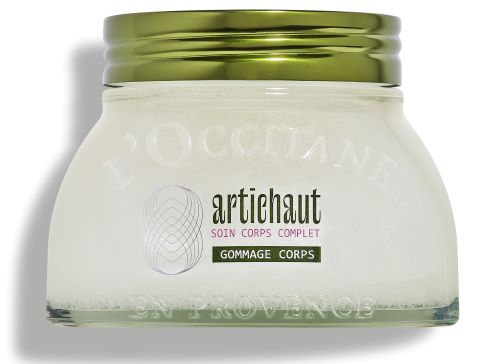 The Artichoke Warming Body Scrub has an jelly like texture that warms on contact with the skin for a moment of pampering. When massaged into the skin, this scrub provides a warming sensorial sensation while sugar grains polishes away dead surface skin cells and impurities which is perfect for Summer skin prep. Enriched with Artichoke extract known to help blood circulation and anti-cellulite Centella Asiatica extract, micro-circulation is enhanced to visibly improve the appearance of cellulite, skin's elasticity and tonicity while also relieving the swelling sensations due to water retention.
Buy here.
L'occitane Artichoke Massage Cream – RRP €54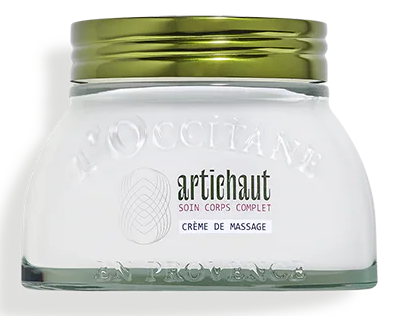 Artichoke Massage Cream is an expert body moisturiser that firms-up the skin and helps to reduce cellulite aspect. Combined with massage it also helps reduces swollen and heavy leg sensation. Its melting refreshing texture leaves the skin hydrated for up to 8 hours. Powered with micro-circulation booster Artichoke extract, it sublimates body contours, restores firmness and elasticity to the skin and helps to reduce the appearance of cellulite. Over time, skin is firmed and toned, appearance of cellulite is improved and heavy legs sensation is relieved. Buy here.
L'occitane Gua Sha - RRP €12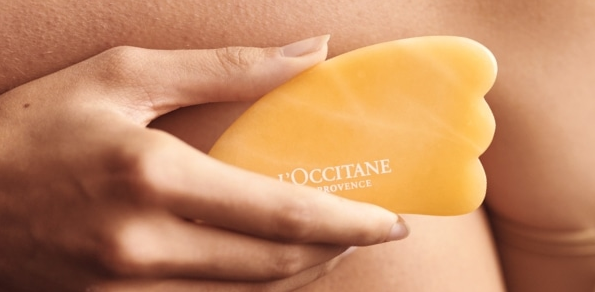 Created around 2000 years ago, gua sha is a natural, alternative healing technique that involves scraping the skin with a smooth-edged massage tool to improve circulation and lymphatic drainage. This ancient Chinese healing technique may offer a unique approach to better health, addressing issues like chronic pain and relieving symptoms of stress. Other benefits include the production of collagen, water retention reduction, a decrease in puffiness and softening of wrinkles and fine lines. Buy here.
Does it work?
When tested on 31 women over 1 month the results are extremely impressive. Feedback includes:
97% skin is moisturised and nourished
77% heavy legs sensation is relieved
74% appearance of cellulite on the thighs and hips is improved
74% skins is firmed and toned
71% water retention is reduced
68% swollen sensations are reduced
Artichoke Toning Trio Set
The three products are also available as the Artichoke Toning Trio set for RRP €111 here.
The range is vegan friendly, made from 98% natural origin ingredients and 99% readily biodegradable ingredients. For more information visit www.loccitane.com.