Whether it's for mums and dads who pack everything their child might need... "just in case", or couples who need to bring the essentials for a weekend break from the kids; the Thule crossover rolling duffel bag is the ideal travel companion.
As a mum, I have to constantly pack bags. Lunchboxes, schoolbags, trips away, grocery shopping reusables, first aid kits; you name it, and I've packed it. When I buy a bag, I have so many things to consider. Is it practical? Is it affordable? Is it high-quality and long-lasting? Will all of my child's toys somehow manage to fit inside it? You get the idea, mums have to remember everything.
I decided to try out the Thule Crossover Rolling Duffel 87L, as I'm already a big fan of the brand, which boasts extremely good quality products, whether it's prams, bags or their outdoors range. They understand the needs of parents, and our desire for ultimate safety when it comes to our choice of travel accessories.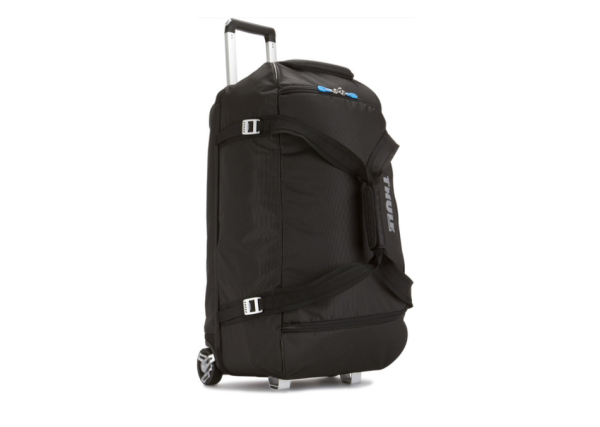 The Crossover Rolling Duffel is 87L with a roller bottom and traditional duffer bag on the top, and already I was impressed by the structure. Having wheels on the bottom is a wonderful help, considering the heavy loads which parents are usually carrying all of the time.
The handle is easy to use, and if your preference is to carry it by hand, the option is there. By all means, it's a large capacity gear bag, made from heavy duty fabric which is most definitely durable.
My kids each spilled a variety of liquids onto the bag, as they do, and it was easy to clean and the fabric absorbed the mess but yet didn't get any of the internal goods damp, which is handy for any mother with children who love to make a little mess.
There are also extra little compartments which you can use to stuff anything in from your child's favourite toy (which could be requested at any moment), ski goggles for adventures in the snow or spare pyjamas for your much-needed mum's night sleep. It's perfect for packing travel essentials, you can fit any amount of goods inside, from hiking gear to nappies and toiletries to baby clothes and snacks for family outings.
The top and bottom parts of the duffel bag are separated by a mesh liner, so you can keep your clean and dirty clothes apart, or your damp and dry apparel for rainy days or swimming trips. You can also easily access the top portion of the bag without having to unzip the entire suitcase, which is a dilemma we've all had in airports when our suitcases are overweight and the contents have to be spilt all over the ground.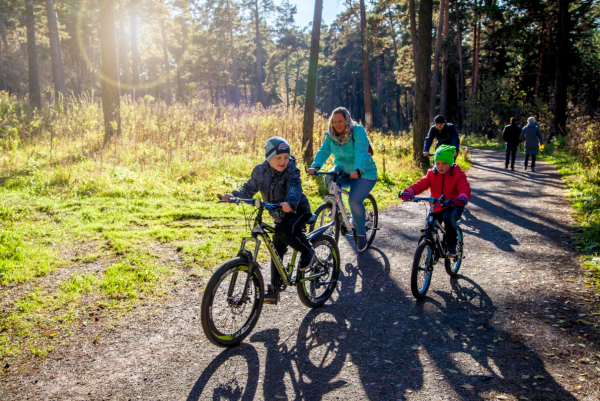 The duffel bag works well for carry-on luggage on weekend away trips, as it's large enough to fit plenty of clothes inside but small enough to bring around with you. Parents of any age would find so many uses for this bag, or anyone with a love for travelling functionally.
Bulky clothes can fit inside if you are deciding to go on a frosty winter trip, skiing or hiking in the mountains. It' also great for summer holidays where you need a mix of outfits and styles of clothing, from safaris to luxurious beach stays to city breaks.
Even on public transport, the bag was easy to carry around, and somehow didn't even get in the way of other travellers. My kids especially enjoyed playing with the velcro handle straps!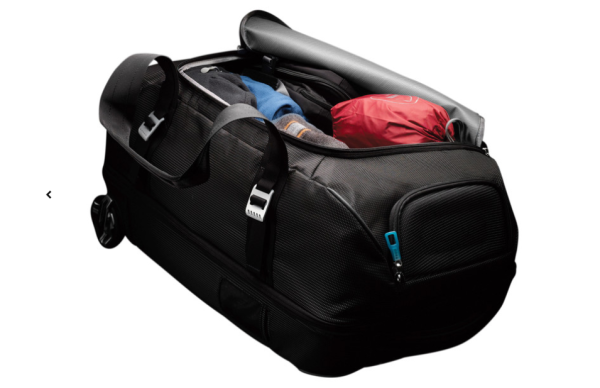 The price is reasonable considering the nature of the product, coming in at €275.42 (£245). While it is that little bit expensive, Thule are a brand which is trusted by parents and consumers because of how long their products survive for. In the end, I'd pay more to have a bag which can last throughout my children's early lives, and can handle everything they throw inside it!
Overall, the Thule Crossover Duffel bag is a product which I would highly recommend to all travel lovers, couples looking for holiday breaks and parents who need all of their kids' gear in the one place. Every parent needs the essentials at a moment's notice, and why not get a bag like this to give you a helping hand?
After all, what mum doesn't need a great quality bag?
Get your Thule Crossover Duffel bag on their website.