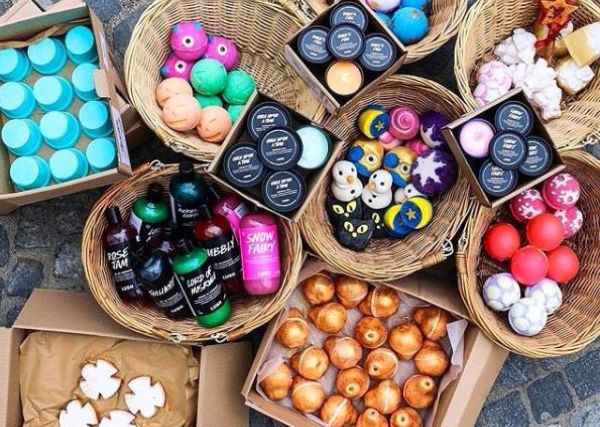 Tis' the season to be jolly, fa la la la la, la la la la.
Well, its actually only October, but trust us, the excitement is already starting to bubble.
All across the globe, brands are starting to reveal their special festive collections, with Lush being the latest to show of their sparkly wonders.
That's right ladies, our favourite bath bombers launched their special Christmas collection this week, well, the first batch of products anyway, we suspect there are more to come.
Amongst the goodies are some classic hero products we know too well, such as the Snow Fairy shower gel and the Golden Wonder bath bomb.
There are also some gorgeous looking new products, that we seriously need to try immediately.
The Star Light Star Bright luxury bath melt is a silver star that you pop in the bath, making the water turn wonderful and glittery!
Need help falling asleep on December 24 when you know Santa's soaring in the skies? Well then the Christmas Eve bubble bar iis your man.
Its designed to send you "to snoozeville with a sleep-inducing blend of jasmine and ylang ylang. It's even got mineral-rich seaweed powder to make your water extra silky so you'll feel like you're snuggling under a fluffy comforter."
There's also the Christmas Sweater bath bomb,. which may just be our favourite product in the collection (it has little reindeer on it!)
"Drop it into the tub and watch as the magical display of swirling colors brings the water to life. You'll be snug as a bug in a rug when you dip into a warming blend of spicy clove bud, refreshing coriander seed and cleansing Sicilian lemon oils. Christmas has never been so cozy!"
SOLD. We'd like 40 please.
Then there's the Plum Snow bath bomb, which is purple with a cute white snowflake on it.
According to Lush, you will "sink into woodsy, green petitgrain and uplifting Sicilian mandarin oils, which will leave you feeling restored and reinvigorated. The inclusion of fruity-floral osmanthus absolute makes this foamer perfect for unwinding after a long day. Snow far, snow good."
We'll absolutely be including all of these in our letter to Santa.