Former Made in Chelsea star Louise Thompson has been very open about her journey with PTSD, depression and crippling anxiety since having her son Leo, and has now shared an update on her health amid getting back into her exercise regime.
Louise welcomed Leo into the world in November 2021 and has been transparent about her recovery ever since.
Now that she is recovering from another procedure and drug-induced lupus, Thompson has revealed that her 'body doesn't feel like her own' as she tries to exercise after not having worked out due to fears it would affect her mental health.
Sharing videos of herself at the gym, the mum-of-one revealed, "Finally really enjoying getting back into it and I've just remembered why exercise is so important and why I always preached about it".
"For so long I was not feeling mentally well enough. Weirdly, my kind of obsessive analysing of everything in health told me not to exercise because I thought it affected the chemicals in my brain and also the way that my body responded to the mental health medication".
"I said to the doctor earlier that I feel like I'm living in someone else's body. I feel like I died and then came back in someone else's bod".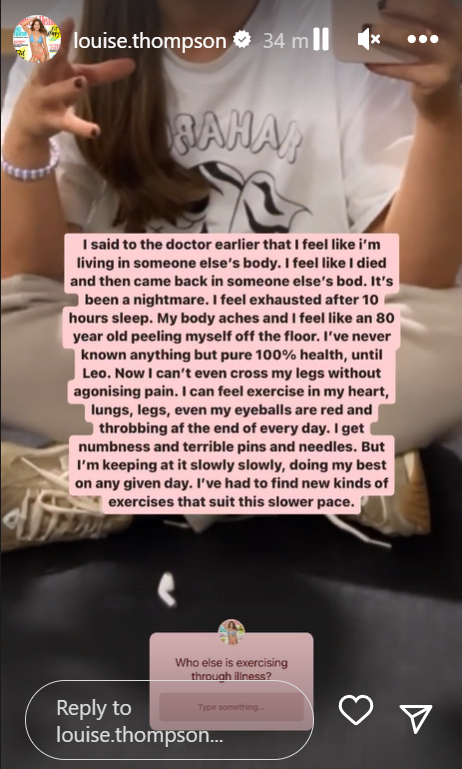 Louise added, "It's been a nightmare. I feel exhausted after 10 hours sleep. My body aches and I feel like an 80-year old peeling myself off the floor".
"I've never known anything but pure 100% health until Leo. Now I can't even cross my legs without agonising pain. I get numbness and terrible pins and needles".
The 32-year-old revealed she is trying to work more on her physical health as she tried to improve her mental health.