Going through the teething phase is a rough one for parents and babies. It's upsetting for us to see our child so distressed and being able to offer little comfort. The red flushed cheeks, the tender gums and endless crying can take its toll on both of you, so it's important to have the tools and tricks you both need on hand to ensure your baby's teething journey is as easy and pain-free as possible.
We've picked out a few of our favourite and most highly recommended tools for your teething baby, that will soothe and cool, providing relief for both of you and allowing their teeth to develop safely.
This drool pad and bib naturally protect your carrier from dribble and drool while giving baby a safe and soft place to chew. It can attach to any 360 & Adapt Ergobaby carrier and keeps the carrier dry & clean. Double layered cotton means extra absorbency and way less mess. It's machine washable, meaning you can throw it in the machine and have it fresh again and ready to go in no time! Super handy!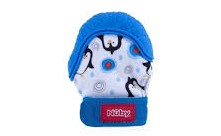 Nûby's Happy Hands Teething Mitten provides an innovative way to relieve and soothe your teething baby! The soft, flexible mitten is a solution for babies who cannot keep hold of teethers, while also protecting baby from chewing on their hand. A variety of colors captivate your baby while the soft silicone provides stimulation to gums and emerging teeth. The Happy Hands Teething Mitten is able to be worn on either hand, is easy to clean, and is machine washable. The soft silicone helps relieve sore gums and protects baby from scratching!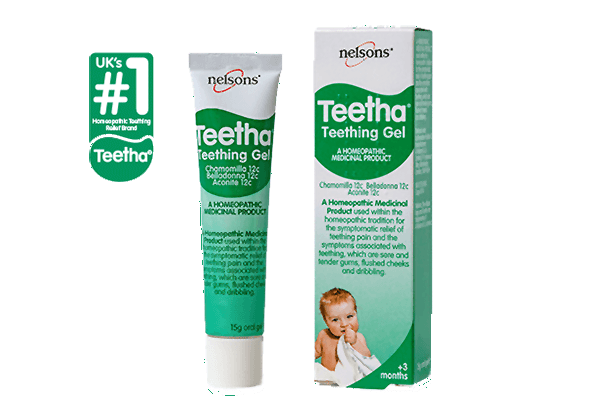 This handy gel can help ease the discomfort associated with cutting teeth and is ideal for when you're out and about. Traditionally used to ease your child's teething pain, it is suitable from 3+ months. Sugar free and easy to apply, always ensure you read the label.
Help soothe baby's sore gums with the Little Friendlies Happy Hippo Teether! This hippo teether is soft and comforting, the perfect little friend for baby during teething. The two textured teethers are excellent at soothing baby's sore gums.
The crinkle paper arms and soft plush body provide tactile stimulation, and the lightweight design makes this hippo easy for baby to hold and play with. Press the light up heart button to hear the hippo sing, speak and play music. Remove the plastic core, which contains all electronics, to surface wash the hippo and keep it fresh and clean for baby.
Your little one will be one busy bear with this Organic Baby Activity Toy from Petit Collage! Completely handmade, your little one will love teething the beech wood ring and cuddling its crinkly shape. It will entertain them with gentle developmental activities and is constructed with the highest quality GOTS certified organic cotton and non-toxic dyes.
Sophie the Giraffe Pure Teething Ring is the first teething ring made of 100% natural rubber. Made from the same natural rubber and food grade paints as the original Sophie la Giraffe. Easy to hold and is ideal for soothing painful gums with a variety of textures, it's great for little hands to hold and ideal for soothing painful gums. It features a variety of textures to relieve baby at different stages of teething.
Fun teether rattle with activities that encourage motor skills and promote cognitive development. Supports Sensory Development: The rattle's fun features – the rattling feedback, fun ball, clicking ratchet, crinkly tail and textured ears – all support your baby's sensory development.
Belo Bunny can help sooth little gums right from their very first chomp. The perfect shape for your little teether to hold so it can help to have your little one flashing you that gummy smile again in no time. It has lots of all over texture which is great for little gums!
The toy's functions from vary from a soft to intensive massaging effect to suit your baby's changing teething needs. The special shape is specially designed so all parts of the mouth can be reached. Easy to grasp with a playful seahorse shape in appealing colours, it attracts your baby's attention as a distraction. Suitable for babies over 3 months old.
The Gummee Glove was born out of necessity & was the brainchild of Mum Jodine Boothby. As a new Mummy, Jodine was struggling to find solutions to help her baby boy with his teething & constant chewing of his poor little hands.
Gummee Glove is the first teething mitten on the market, designed solely for babies to wear. Babies cannot adequately grasp a teething ring or toy until around the age of 5 months plus, however, their teething symptoms can begin a long time prior to this. Gummee Glove secures safely to babies' hand with an adjustable Velcro closure & the water filled teething ring can be detached for easy sterilising & refrigeration. The water teether is held in place by a very strong, inbuilt popper. This also negates the need to constantly hold toys to baby's mouth and puts an end to toys being dropped on the floor when out & about. Ideal for the car, push chair – or anywhere when mum/dad just needs a few extra minutes in the day!
Based on the much loved book, the Very Hungry Caterpillar Teether Rattle is perfect for stimulating your baby's senses as well as soothing sore gums when teething.
The extra safe design means the organic giraffe baby teether toy is made from non-toxic, BPA-free, and FDA-approved food-grade soft silicone. The more texture, the more relief for you baby! Your little one will love the multiple ridged surfaces that soothe sore teeth and gums. This natural baby chew toy gets to those molars without posing a choking hazard and it's freezable for even better soreness relief.