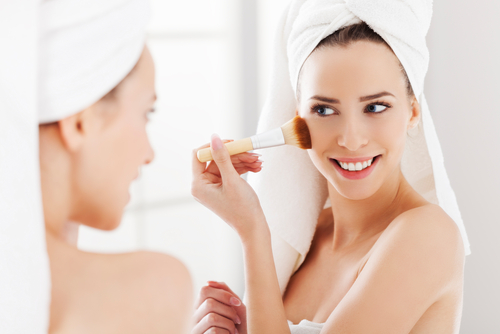 The longer you have been applying make-up for, the easier it is to get stuck in a rut! And while there is nothing wrong with that, it can often mean we end up making certain mistakes over and over again.
Often it takes someone else to point it out to you before you realise!
Getting the colour wrong
Before you buy your foundation, make sure it is the right colour by blending it along your jaw. If in doubt go lighter, never darker..
Putting foundation on dry skin
If you don't have a proper base to work with, your make-up is just going to look dry and patchy. Make sure you apply plenty of moisturiser before putting foundation on, and go for one suitable for your skin type.
Using too much powder
Powder is great at keeping your make-up in place and reducing shine, but if you over use it, especially during the day, it can look caked on. Use it sparingly and keep it for problem areas only.
Bold, dark eyebrows
Unless you were born with thick, dark brows they will look too harsh on your face. Brunettes should go for a shade lighter than their natural colour and blondes a shade darker.
Not blending
Blending is key to ensuring your make-up looks natural – a tell-tale line is never a good look. Use a sponge or your fingers to ensure it looks flawless on your face.
Not prepping your lips
Avoid putting lipstick on lips that are dry or chapped. Make sure you exfoliate and use a balm to give your lips a soft, supple look.