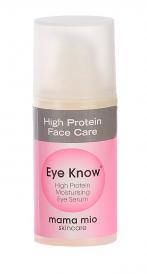 The MummyPages team is full of, well, mums! So we completely understand the whole lack of sleep issue new moms face and the resulting dark circles under the eyes. They are a common, everyday concern. So any product which might help with tired eyes is most welcome.
Mama Mio 'Eye Know' high protein moisturising eye serum is a lightweight serum that tackles dark circles along with other familiar eye issues such as crow's feet, wrinkles, puffiness and saggy bags.
Eye Know sinks into the skin quickly with long-lasting moisturizing protection and gentle lifting. This multi-functional product has 12 key active ingredients, which are meant to tackle the main signs of tiredness and ageing.
Mama Mio also suggests undertaking facial exercises – many mums will go through grueling exercises every week to keep their bodies in shape so why not apply that same thinking to the face? They suggest two exercises fondly known as 'High Brows' and 'Lost Baggage' which are two targeted 30 second exercises to sculpt and lift your face.
High Brows exercise is great at keeping you wide eyed. It simply and precisely targets the frontalis muscle which is the forehead muscle that holds your eyebrows up high. It is a broad muscle that runs up from your eyebrows into your hairline and if you keep it firm, toned and lifted, it will keep your expression open and relaxed.

The Lost Baggage exercise works the orbicularis oculi – a ring of muscle around the orbit of the eye. It is a very specific movement and acts like a little eye push up which keeps the under eye lifted and strong to stop it from getting baggy.
Eye Know is part of the Mama Mio High Protein Face Care range that improves collagen and elastin levels, reduce wrinkles, improve skin tone and protects against further damage.
The facial exercises are great as they don't cost you anything but you do need to make time each day. So, if like most mummies, you are time starved, Eye Know retails at €33.