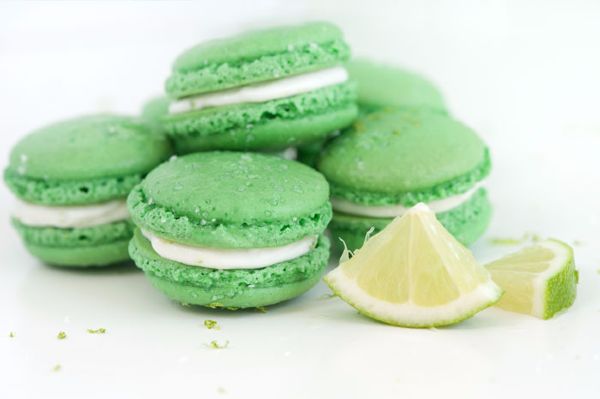 The weekend is FINALLY here, and it is the perfect time to bake some delicious treats.
We came across this amazing recipe recently on Sprinkles For Breakfast, and fell in love.
Try these beauties out, and let us know your thoughts: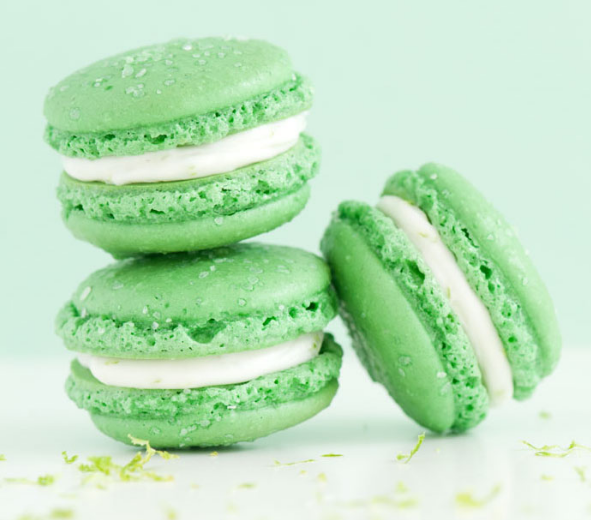 What you'll need:
Macaron Shells
1 1/2 cups powdered sugar
1 cup + 2 tbsp almond flour
3 eggs whites
1/2 cup sugar
Green food colouring
Salt
Tequila Lime Filling
1/2 cup unsalted butter, room temperature
1 1/3 cup powdered sugar
1 teaspoon lime juice
1-2 teaspoons lime zest
1 tablespoon tequila
1/8 teaspoon salt
What you'll do:
The shells:
Preheat oven to 325 degrees.
Prepare a piping bag with a round tip, with about a 1/4-inch opening, and a baking sheet lined with parchment paper.
In a medium bowl, sift almond flour and powdered sugar together. Set aside.
In a stand mixer with a whisk attachment, beat egg whites on high speed until they form soft peaks.
Lower the mixer's speed to medium, and add sugar.
Put mixer back on the highest speed, and beat until stiff peaks are formed.
With the mixer still on high speed, add food colouring a few drops at a time until you get desired colour.
Take bowl off of mixer, and add almond flour/sugar mixture.
Using a rubber spatula, aggressively fold in dry ingredients until the batter starts to loosen and becomes a little runny.
Put batter (about 1/3 of the mixture) into prepared piping bag, and cover the rest of the batter with cling film.
Pipe 1/2-inch circles on prepared baking sheet, and firmly tap the bottom of the tray so the batter flattens out.
Add a sprinkle of salt on top of each macaron.
Repeat the process with remaining batter.
Let macarons rest for 30 - 45 minutes, or until they form a skin.
Bake for 10-12 minutes.
Let cool before peeling them off parchment paper.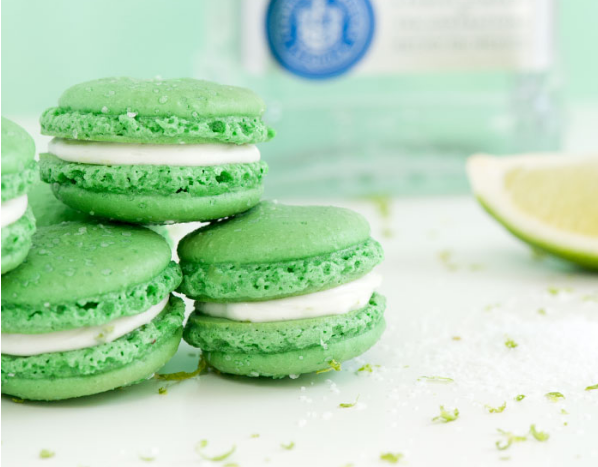 The filling:
In a stand mixer with a whisk attachment, cream butter on high speed until light and smooth.
Reduce the speed to low and add powdered sugar. Mix until fully incorporated.
Add lime juice, zest, tequila and salt and mix on high speed until light and fluffy.
Assembling the macaron
Peel macarons off parchment paper and pair them according to size.
Fill a piping bag fitted with a round tip with butter cream, and pipe a dollop on one half of a pair of cookies.
Sandwich cookies together.
ENJOY!