Whether its because the kids are back at school, the alarm didnt go off or you are just running late - Clinique's Global Colour Artist, Jenna Menard, is on hand to help perfect makeup on the move. From a bumpy train to a bendy bus, Jenna and Clinique have got it covered. "Makeup on the go is all about the right combination of products and application techniques to ensure a mess free, sanitary , quick makeup routine."
The Base
"Applying foundation the right way requires proper light. Trains, buses and cars don't always allow for the most beautiful lighting situations, so take the 5 minutes before leaving the house to apply your foundation. Have a concealer in your handbag for any spots that need a quick fix or a little extra coverage. If you don't have any time to do the foundation at home, then grab the concealer and apply where needed and blend blend blend into the skin before topping with powder."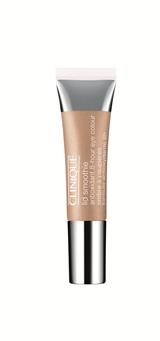 The Eyes
"The trick is creating a look that is bus, train, car-friendly. Stay away from precise lines and multi step looks. A product with a built in applicator makes it that much easier. For Eyeshadow, try Lid Smoothie Antioxidant 8hr Eye Colour which is a cream shadow with an innovative applicator, where you can apply the product in one motion, with one hand.

There is no reason a liquid liner should live in your on the go makeup bag. Instead, try a soft pencil that can be worn smudged and with ease. Quickliner for Eyes Intense all have a smudge tip on the end, which can help with blending liner on the move. Don't overthink the line, just apply it close to your lash line and smudge with the tool on the other end."

The Brows
"Instant Lift for Brows houses a miracle product that is a must for on-the-go makeup application. The highlight end of this pencil can be used for many different areas of the face. Of course under the brow as a highlight, but also blended on the high cheek bones, over the whole lid, bow of the lip etc. The fact that it is in a pencil form and a soft blendable formula makes it easy for many different purposes."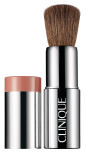 The Cheeks
"Quick Blush is the ideal on-the-go product that includes a brush within the packaging to make it easy. How many times have your reached in your bag and realised you have your blush but forgot your brush, and then spent a good 5 minutes trying to figure out how you are supposed to apply blush without a brush? With Quick Blush, the colour is located inside the cap and you simply twist to apply the product on the brush."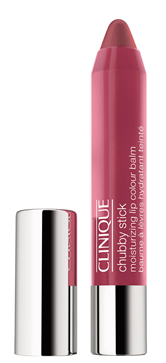 The Lips
"Chubby Stick Moisturizing Lip Colour Balm is for women on-the-go, looking for an easy to apply lip balm with gorgeous sheer colour payoff. Chubby Stick is available in 16 mouthwatering shades, is highly moisturising and provides buildable coverage. And it's playful packaging makes it easy to apply for women on the move, no mirror required. Just twist the base to expose more balm and twist back down when you're done applying."
The Mistakes
"Don't panic! Even though you are on-the-go you should have some sort of plan what to do when the train takes an unexpected halt or someone bumps into you with their bag and makes your mascara look like warpaint under your eyes! It doesn't take much to clean up small mistakes. Have some cotton buds and tissue on hand. Also makeup remover pads can come in handy even if you tear off a small corner to clean up areas around the lips if the line isn't as straight as you would like."
Here at MummyPages we were lucky enough to try these amazing products and needless to say we were very impressed! Firstly, we love Chubby Sticks. Not only do they provide long lasting colour, you can also feel the intense moisturising qualities thanks to its shea butter ingredients. Although it was hard to choose, our next favourite has to be Quick Blush. It comes in six natural looking shades, that can be applied with as much or as little intensity as you wish giving you a quick and hassle free day time or evening look.