As we all know, the right makeup brushes can make a huge difference to the outcome of your overall glam, so it is super important to ensure that you are putting your best face forward with high-quality tools at the helm. Makeup Maestros Kash Beauty have just announced the launch of their bestselling brushes as individual pieces, making it the perfect time to carefully curate your very own collection with the stamp of approval from none other than one of Ireland's biggest Award-Winning Beauty Influencers, Keilidh Cashell - helping to put the artists touch behind your techniques for a flawless finish.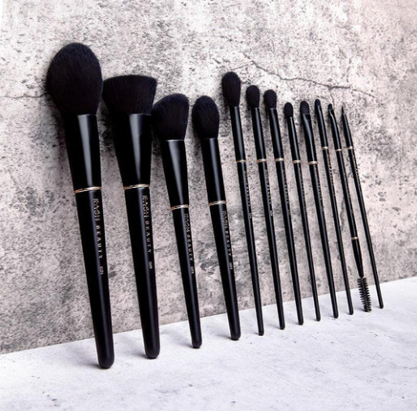 Previously available as 12-piece collection, these incredible tools have now gone solo and are a must have in the latest innovative fibre technology, the very first of its kind on the Irish Market. The unique, super soft fibres latch onto your powder and cream products to optimise pigment, yet blend seamlessly into the skin, giving you that Pro MUA touch each and every time.
From a sultry smoky eye to a flawless, glowing complexion, take your look from day to night with the masterful stroke of a KASH Beauty brush, with one for every step of your application.
K01: Powder Brush RRP €14.95

A dome shaped powder/bronzer brush to allow for precise application with even distribution.
K02: Foundation Brush RRP €14.95

A flat top foundation brush, packed with super soft bristles that allows you to evenly and effortlessly apply and blend for a flawless airbrushed finish to your skin.
K03: Angled Contour / Blush Brush RRP €14.95

An angled powder brush, the perfect size and shape to fit the contours of your face for adding a flush of colour or definition to your cheekbones.
K04: Setting Powder Brush RRP €14.95

A dome shaped brush, perfect for precise application of powder products.
K05: Small Precise Face Brush RRP €14.95

A dome shape and soft bristles to allow a precise application of product and silky blend. Perfect for blending powder and cream products effortlessly onto the face and body.
K06 Blending Brush RRP €9.95

This Blending Brush is perfect for applying and blending your eyeshadows at the same time. Super soft to allow for an even blend.
K07 Crease Blending Brush RRP €9.95
A crease blending brush made for packing on colour and diffusing at the same time. The perfect tool for a more precise blend.
K08 Dome Blending Brush RRP €9.95

For packing colour onto the eye and for precise blending. The perfect size for more detailed work and for smaller eyes.
K09 Concealer Brush €9.95

A super flat concealer brush suitable for more detailed work. The small flat head allows full control with the finer details of any look. Distributes products with ease.
K10: Small packer brush €9.95

This brush is perfect for packing on colour, perfect for smoking out your liner or lower lash line.
K11 Angled Brush €9.95

A small angled brush with spoolie, suitable for liner and brow application. This super thin brush allows for detail to create hair like strokes or a sharp liner.
K12: Small Liner Brush €9.95

Perfect for detailed liner application, helps the product glide on with precision. Suitable for eyes, lips or freckles.
Available to purchase from www.KASHBeauty.com, Brown Thomas and Selected Dunnes Stores nationwide.