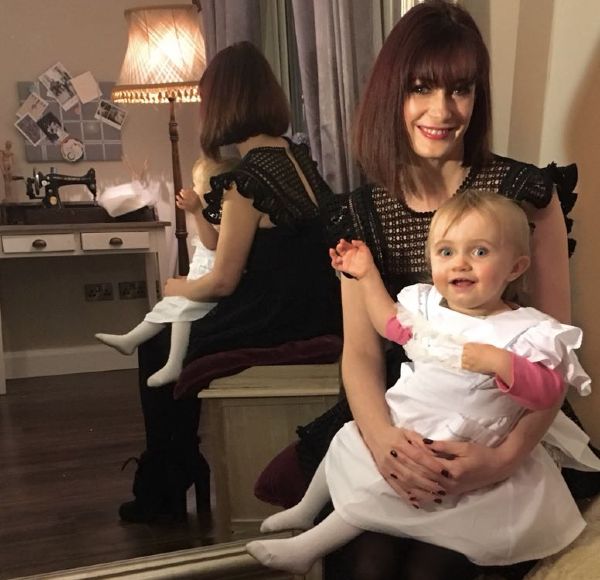 We were delighted to speak with Jill about the challenges and joys of running her own business. She owns and runs - LaLaWilde a children's vintage clothes company based in Dublin and is a mum to beautiful daughter Mia.
1. Why did you start your business?
I have always been a big fan of everything vintage from clothes through to furniture. One of my favourite boutiques for a special outfit for a wedding or another occasion has to be Dirty Fabulous. I love taking a vintage dress and teaming it with modern accessories. When my husband Scott and I moved into our house we had a lot of my grandparents' 1950's furniture restored to decorate the bedrooms and the sitting room. Again I love the ambience that is created by mixing vintage with modern in our home. A year ago I had a little girl called Mia and one of my greatest pleasures was dressing her in the fab clothes that people had generously given her. One day I was helping my mum clean out her attic and I came across boxes of old children's patterns that my granny had collected during her lifetime. The designs were so beautiful and intricate I thought "wouldn't it be brilliant to create a range of vintage kids clothes for vintage lovers like me"? I knew that there would be a market for it and set about employing these patterns and teaming them with quality fabrics like organic cotton.
2. What are the main challenges you face as a mum trying to run a business?
I suppose the main challenge would be time or the lack thereof! Like many others, I don't have the luxury to spend hours mulling over a document or a Facebook post when there is a toddler looking for her dinner or to be entertained! Mia never needed much sleep but now that she is one she never sleeps during the day and has copious amounts of energy. I soon learned that I needed to be productive in 5 - 10-minute intervals. I would never have believed how much you could do before in such short time bursts. I've become an expert in organising myself and making the best of unusual work hours. Mia will sleep until 8am so I find that if I get up at six then I can get a good two hours done before the madness starts.
To be honest, I am very lucky in that I have a great support network and lots of people who will look after her when needed. Otherwise, I don't think I would have gotten this far!
3. Why is having your own business so good when you have a family?
It has to be the flexibility. I can work around my little girl and the times that suit her. I get to have my cake and eat it as I get to be there to see everything Mia does as she is growing up. The ability to spend time doing simple things like going to the park with her whilst I run my own business is something that I'm really grateful for.
Even at this young age Mia loves coming to the studio with me and playing with the fabrics and threads. She loves textures and colours it's great to see her getting such enjoyment out of what I do as well.
4. What motivates you?
I have always been passionate about design and creating things; the advantages that come with being able to do what you love and earning an income for it simply cannot be underestimated. I'm also conscious of how unusual this is and so, I respect that opportunity. I appreciate the fact that I can combine my passion alongside watching my daughter growing up and this makes me work harder in a smarter way that suits me. Having that opportunity and keeping it as a going concern is a motivation in itself.
5. What is the secret to your success?
I love my job and the people that I work with. I look forward to every day which is a luxury to be able to say. Also, I have a massive support network from the people I work with to my family and friends and this has been a huge part of my success to date. In addition, I've learned to put one foot in front of the other; no matter what the day brings or how you're feeling – the key thing is to keep moving forward.
6. What advice would you give to other mums trying to juggle their own business?
The main advice I would give is to be kind to yourself. I know of so many people who beat themselves up because they didn't get as much done in a day as they wanted to because their baby was sick or crying. The truth is that not every day will go to plan and you need to accept that. You will have good days and bad days. Try to set yourself reasonable expectations. In the beginning, I fell into the pitfall of setting myself unachievable targets and ended up getting despondent. Remember to schedule in time off; that's very important for your own productivity. It can become easy to fall into the trap of working every second that you are not spending with your child. Whilst there will be some days that they demand every minute of your time, that shouldn't be every day. Trust yourself to know the difference.