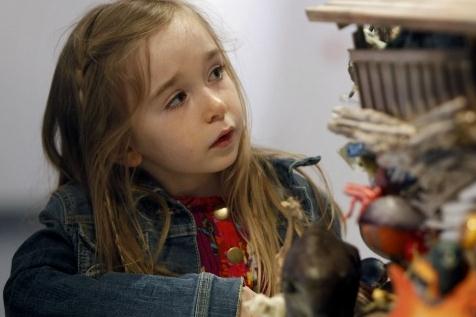 This midterm The Ark will be hosting theatre workshops for children ages 5 – 7. No acting or drama experience is required so anyone can join in the fun.
The Big Bad Wolf Theatre Workshops will be packed with creative theatre and storytelling games. Actor, playwright and director Niamh McGrath will run the session, and children will work in groups to create their own performances of Little Red Riding Hood. These workshops are a fun way to encourage kids to use their imaginations and get creative, as well as build their confidence.
The free Mandscape exhibition is also opening throughout the midterm break, and every Saturday until 6th April. There will also be special map-making workshops running on the 9th February (workshop tickets €10).
Drop in between 10am and 4.30pm (last entry 4pm) and explore Mandscape, a visual arts exhibition of pieces from The Ark's collection. A special child-centred audio guide will take you through the exhibition telling you more about each artist and each piece of art. To coincide with the exhibition, kids ages 4-6 and 7-9 can take part in the map-making workshops. Focusing on textures and materials, this workshop with artist Orla Kelly allows children to design and map their own world.
Mandscape map making workshop details: Dates & times Saturday 9th February, 11am (4-6 years) and 2pm (7-9 years). Duration 60mins (4-6 years), 90mins (7-9 years). Tickets €10 (€8 concessions).
The Big Bad Wolf workshops are presented in celebration of Ireland's Presidency of the European Union. Dates & times Midterm break: Tuesday 12th – Sunday 17th Feb, 11am and 2pm; Saturday 23rd and Sunday 24th February, 11am and 2pm; Easter Holidays: Bank Holiday Monday 1st – Saturday 6th April, 11am and 2pm. Duration 90mins. Ages 5-7 years Tickets €10/€8 concessions (adults should accompany children aged 6 and under, but do not require a ticket.)