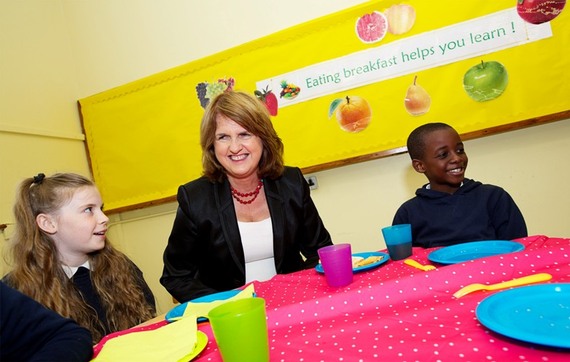 This week the Minister for Social Protection, Joan Burton T.D., attended the launch of a Breakfast Club Pilot Programme in St Catherine's infant National School, in Cabra this week. The programme has been developed by Healthy Food for All and funded by the Kellogg Corporate Citizenship Fund.
The Pilot Programme which started in January in four Dublin Schools, St Catherine's Junior National School Cabra, St Eithne's Girls School, Edenmore, Holy Trinity National School Donaghmede and Holywell Educate Together, Swords examines the effect having a breakfast club will have on the social and academic environment in these schools.
At present, 13% of school children in Ireland report that they never eat breakfast on weekdays with a marked increase seen in those from lower socio-economic groups, girls and older children. The initial reports from teachers and those involved in the breakfast clubs is that the children who attend are highly attentive and better prepared for the school day. Kids have fun meeting their friends and are in a rush to get to school. The breakfast clubs are a wonderful opportunity for kids to socialise with their friends before the start of the school day.
This pilot programme hopes to gather evidence about the benefits that breakfast club programmes could have throughout Ireland. HFfA will evaluate the outputs from this programme to demonstrate how clubs can be set up in both DEIS and non-DEIS schools.
Kellogg's have a strong track record in supporting families and communities in Ireland. Through their 'Breakfast for Better Days' initiative, Kellogg's are supporting food banks and breakfast clubs not only in Ireland but around the world to ensure more people and children in particular get a better start to their day.
June 2013