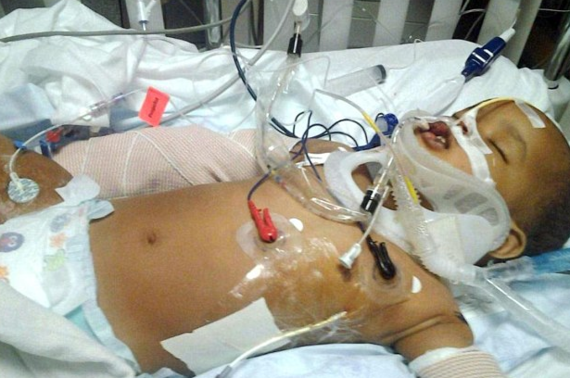 A 15-month-old baby has survived a huge fall from an 11 storey apartment in Minneapolis, USA.
Musa Dayib is currently in a critical, but stable condition in hospital after his horrific fall last Sunday.
Doctors have revealed that the baby boy has sustained numerous injuries including a concussion, broken back, broken arms and bruises to heart and lungs. But despite all of this, Musa's doctor, Tina Slusher said he is incredibly lucky to be alive.
"If you and I fell that far, we would be dead. He's a kid. So they tend to be more flexible and pliable than you and I would be. Having said that, it's a real gift from God that he made it because this is a huge fall."
Tina said the only reason that Musa survived such a big fall, was due to him landing in a mulchy area.
Apparently Musa's father was watching him play with his little sister but when he left the room for a second, Musa's sister opened the door to the balcony.
"Less than a minute, the dad went to the room and the daughter run after him, about less than a minute, tell him the baby fell down."
Musa is heavily stated but doctors say it's too early to tell, whether he had suffered any permanent damage.