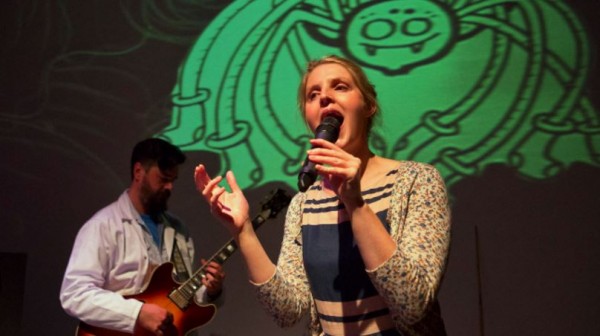 Interactive and spontaneous, Monster Music Improv is a dynamic visual and aural adventure with improvisation at its heart, specifically designed for younger audiences.
Award-winning vocalist Lauren Kinsella and acclaimed guitarist Shane Latimer create jazzy melodies on-the-spot, while illustrator Patrick Sanders draws engaging cartoons via live projection.
A collaborative project developed over two years, Monster Music Improv combines the expertise of children's cultural centre, The Ark, in programming and developing work for young audiences, with the experience of Ireland's leading promoter and resource for jazz and experimental music, Improvised MusicCompany (IMC), in developing and producing high level music performance.
Audiences can expect lots of spontaneous music fun as well as exciting interpretations of some well-known tunes. This delightful show, specifically aimed at encouraging the development of children's imaginations through improvisation, is fun for the entire family with engaging spooky story-telling, creative music-making and high level of performance.
"Monster Music Improv was jointly devised by IMC & The Ark to address the lack of progressive live music for young audiences," Director of The Ark, Aideen Howard said on the real need for ambitious programming for children.
"Both organisations shared a vision to create a new high calibre music performance designed to both engage and delight young audiences, igniting their musical imaginations through jazz."
Tour schedule:
• Lime Tree Theatre, Limerick - Fri 21 October, 11am
• Droichead Arts Centre, Drogheda - Sat 22 October, 2pm
• Solstice Arts Centre, Navan - Mon 24 October, 10am
• Roscommon Arts Centre, Roscommon - Tue 25 October, 10am
• glór Arts Centre, Ennis - Wed 26 October, 10.30am
• The Ark, Dublin - Thu 27 October, 10.15am & 12.15pm
• Island Arts Centre, Lisburn - Sat 29 October, 3.30pm
• Wexford Arts Centre, Wexford - Sun 30 October, 3pm
• Riverbank Arts Centre, Newbridge - Mon 31 October, 2pm
For more information, click here.
SHARE if you'd love to go.