This Christmas, ​​Ella&Holly have launched matching Christmas jumpers for mother and daughter in two unique traditional styles. Since launching the jumpers in October, the initial response has been overwhelming which shows there is a so much interest and desire for high quality, adorable matching Christmas jumpers this season.
There are two styles of Christmas jumpers:
The "Red Reindeer" raglan style: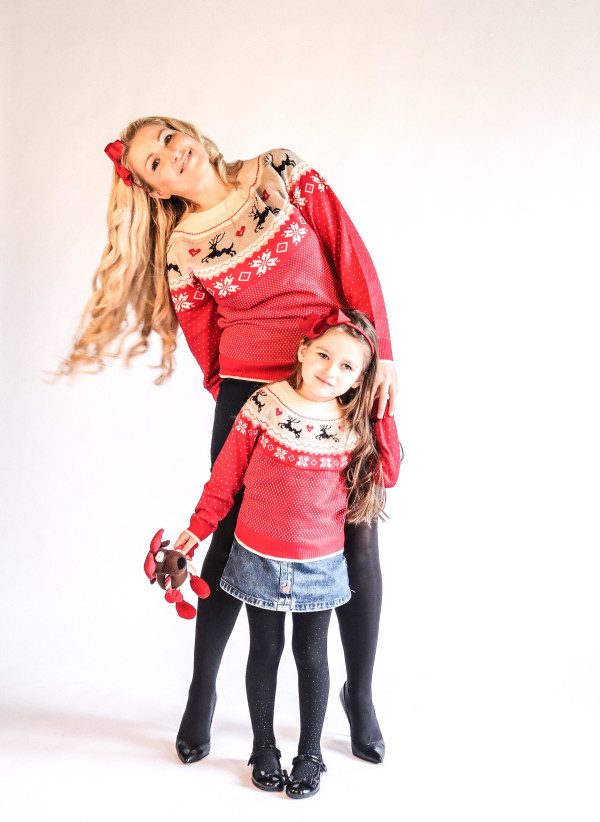 Traditional "Pink & Grey" jumper with pink reindeer and seasonal designs: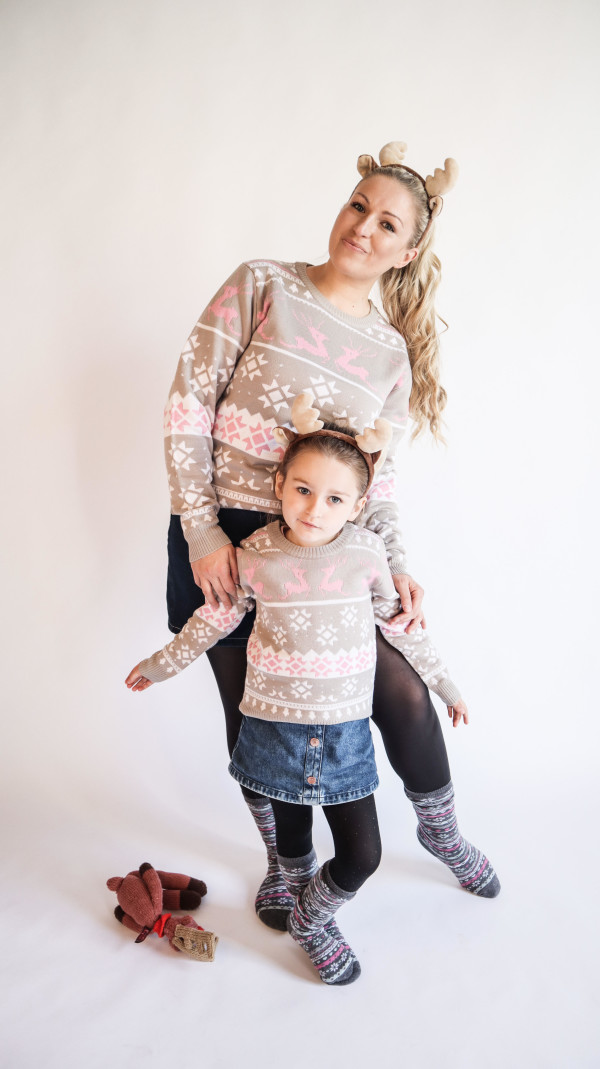 They are being sold as sets of two, with a jumper for adult and child, for €39.95. You can also add sizes accordingly if you need extra jumpers e.g. €14.95 for extra child and €24.95 for extra adult.
The children's sizes start from 6months up to 8yrs (6months-12months, 1-2 years, 2-4 years, 4-6 years and 6-8 years) and adult sizes are from Medium (10-12UK) to Large (14-16UK).
Ella, mum to daughter Holly and son Hugo, is founder of the company 'Ella & Holly' and has this to say about what has inspired her journey so far.
"My​ ​name​ ​is​ ​Ella​ ​and​ ​along​ ​with​ ​my​ ​amazing ​five year​ ​old daughter​ ​Holly,​ ​we​ ​have​ ​developed​ ​our​ ​very​ ​own fashion​ ​label​ ​called​ ​​Ella&Holly.​ ​As​ ​we​ ​are​ ​the​ very ​first​ ​Mother​ ​& Daughter​ ​Matching​ ​Clothes​ ​brand​ ​across Ireland​ ​and​ ​the UK, we​ ​would​ ​like​ ​to​ ​share​ ​our​ ​story​ ​with​ ​you!
Our​ ​collection​ ​is​ ​based​ ​on​ ​the idea​ ​of​ ​mother​ ​and daughter matching outfits​ ​for​ ​mothers​ ​and​ ​their​ ​girls who​ ​are​ ​​just​ ​like​ ​us….we​ ​both​ ​love​ ​fashion and matching of course.​
​It​ ​all​ ​started when​ ​we​ ​were​ ​attending​ ​a​ ​family​ ​wedding​ ​​just​ ​after Holly was​ ​born​ ​and​ ​I​ ​really​ ​wanted​ ​to​ ​match​ ​with​ ​my​ ​little​ ​girl.​ ​As I​ ​shopped both online and on the high street, I​ ​found​ ​it​ ​almost​ ​impossible​ ​to​ ​purchase​ ​high quality​ ​full​ ​matching​ ​outfits​ ​for​ ​us​ ​that​ ​would​ ​suit​ ​the occasion,​ ​so​ ​I​ ​approached​ ​my​ ​mother​ ​to​ ​make​ ​our​ ​first matching​ ​pink​ ​tutus. The​ ​tutus​ ​turned​ ​out​ ​absolutely​ ​fab​ and​ ​everyone loved​ ​the​ ​concept. ​ ​The​ ​seed​ ​had​ ​been​ ​planted.​ ​
Since​ ​then,​ ​I​ ​decided​ ​that​ ​I​ ​wanted​ ​to​ ​create and pursue my​ ​own​ ​label​ ​of​ ​Mother​ ​&​ ​Daughter​ ​Matching​ ​Clothes​ ​that​ ​will​ ​not​ ​just​ ​be​ ​for​ ​occasional wear​ ​but​ ​also​ ​for​ ​everyday​ ​life,​ ​whilst,​ ​most​ ​importantly,​ ​still​ ​retaining​ ​outstanding quality​ ​above the rest and​ ​amazing​ ​style.
I​ ​have​ ​to​ ​admit​ ​that​ ​my​ ​life​ ​has​ ​been​ ​quite​ ​hectic​ ​at​ ​times juggling between my own business, raising two young children, Holly and Hugo, and working in hospitality up until last year, but leaving that sector to become full time at Ella&Holly was the best decision I could possibly make, leading to our most successful year to date in 2020.
Our​ ​online​ ​boutique​ ​went​ ​live​ ​in​ ​March​ ​2017,​ ​just​ ​around​ ​the​ ​corner from​ ​Holly's​ ​2nd​ birthday,​ ​and​ ​the​ ​day​ ​that​ ​we​ ​had​ ​started​ ​this amazing​ ​journey​ ​will​ ​always​ ​be​ ​very​ ​special​ ​to​ ​us, The​ ​response​ ​to our business has been​ ​overwhelming​ ​and​ ​has​ ​given​ ​us​ ​the​ ​confidence​ ​to​ ​grow​ our brand even​ ​further.​ ​
The trend of matching outfits is steadily growing and we are proud that our collection is at the forefront of mother and daughter matching clothes in Ireland and the U.K."
For more, visit www.ellaandholly.com.