Anything that combines our love for family and friends with our Tayto obsession is a winner in our books, and we're just a little bit ecstatic over the latest announcement from Tayto HQ.
As one of, if not the most beloved snack of the Irish, Tayto takes St Patrick's Day very seriously indeed – all you need to do is look at the fancy new green, white and gold packaging on their 37g packets of Cheese & Onion to know that much.
Well, to make the March 17 festivities even more special this year, Mr Tayto has yet another big gesture up his sleeve – he wants to bring your loved ones home for St Patrick's Day!
Indeed, in a very special St Patrick's Day-themed competition, Tayto is offering one lucky fan the chance to bring a loved one home to Ireland from anywhere in the world.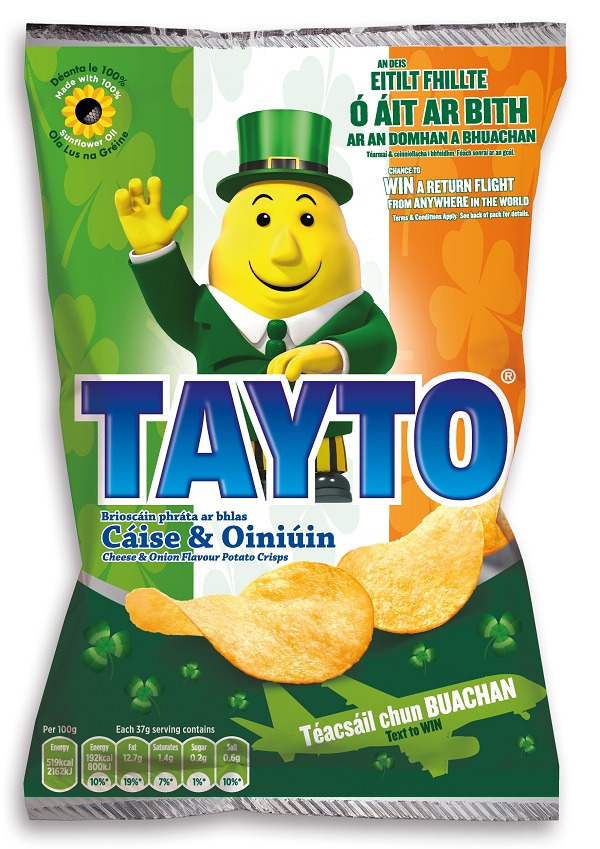 The winner will receive a return flight for a family or friend from anywhere in the world to Dublin, as well as two VIP tickets to St Patrick's Festival.
But that's not all – the lovely team at Tayto HQ is also offering 100 crisp-lovers the chance to have a box of delicious Tayto crisps delivered to their loved ones around the world.
If this sounds like a dream scenario, then pick up a pack of the special edition St Patrick's Day tricolour Tayto – it contains all of the instructions on how to enter the competition, as well as the terms and conditions.
It looks like Tayto-lovers are going to have a very happy St Patrick's Day!
For more information, check out Facebook, Twitter and Instagram.