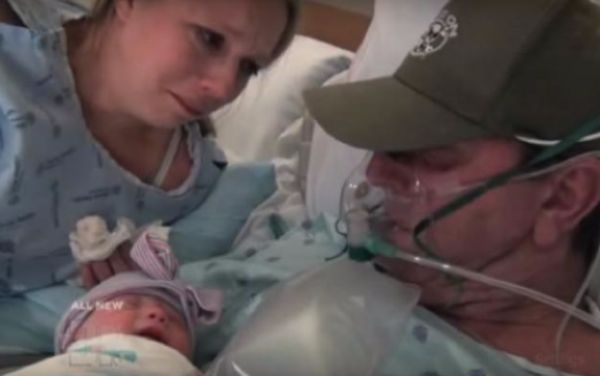 On New Year's Day, Mark Aulger collapsed and was diagnosed with pulmonary fibrosis - a disease of the lungs that hinders the flow of oxygen to vital organs.
Mark's wife, Diane, was pregnant with their fifth child when they received this heartbreaking news.
Mark was told by his doctors that he had just one week to live, and so it was highly unlikely that he would be able to meet his baby girl.
Diane was determined and made the decision to have her labour induced, so that Mark could meet his daughter before he died.
A video documenting Diane's emotional birthing process was shared on The Doctors show last week.
"I thought I would be having her by myself. I was very happy – they were going to keep us together for the birth," Diane said in the clip.
Baby Savannah was born via C-section on January 18, and Mark was the first person to hold the beautiful little baby.
"When we induced the labour, he was in a bed, side-by-side with me. For me, it was a beautiful day – he was there, wide awake and alert for the whole day."
The day after Savannah came into the world, her dad fell into a coma, and sadly passed away 48 hours later.
Diane shared her last few moments with her husband and her new baby: "I put her in his arms and held his hand until he stopped breathing."
Our hearts go out to Diane and her family at this terrible time.
Do you have a story that you would love to share with MummyPages? Click here and you could be in with a chance of winning €250.