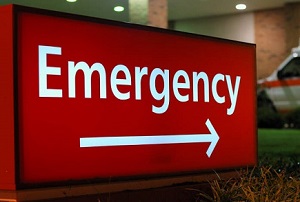 This week, parents have taken to their social media channels to warn of the dangers of paracetamol and little boys' swimwear, and now another mum is sharing an equally important message with the world.
Claire Henderson has taken to Facebook to warn parents of the potential dangers of kissing your baby on the mouth.
As you may already know, cold sores can prove fatal for a baby, and her own daughter Brooke had a lucky escape after recently catching the herpes virus.
Sharing two photos of her baby girl, her face covered in the sores, Claire wrote: "Please share this with every new mum and pregnant woman you know…COLD SORES CAN BE FATAL FOR A BABY. Before 3 months old, a baby cannot fight the herpes virus. If a baby contracts this, it can cause liver and brain damage and lead to death."
Recalling her own experience with Brooke, Claire continued: "I know this sounds like I am scaremongering, but if my friend had not told me about this, my baby girl could have been very seriously ill."
Thankfully, Claire was able to notice the signs with Brooke early, but she went on to add: "We have now been in hospital on a drip for 3 days and have got another 2 to go. She was VERY lucky, all her tests came back clear."
She went on to urge mums and mums-to-be reading her post not to let anyone kiss their newborn babies on the mouth, as a staggering 85% of the population carry the virus.
Claire's post has been shared over 34,000 times and has reached viral status this week.
We're sure that her warning will go a long way towards protecting other little ones.