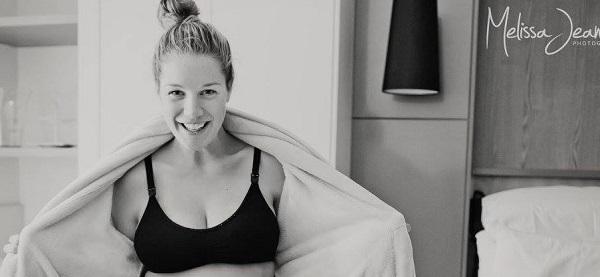 It takes real guts to bare your body to the entire world just days or even mere hours after giving birth, but the impact can be amazing and far-reaching.
An Australian mum named Alyce has become an internet sensation this week, after a photo taken of her one hour after giving birth went viral.
It was friend and photographer Melissa Jean who took to her professional Facebook page to share the black-and-white shot, in which Alyce stands with her robe wide open, wearing nothing else but a bra and nappy.
"One hour after giving birth…looks stunning…in a nappy," Melissa Jean wrote over the photo, which has garnered praise from all corners of the world.
"Bloody love this! Hooray to anyone that shows it how it is," wrote one mum, while others branded the candid shot 'stunning', 'brilliant' and 'amazing'.
With the post going viral, another visitor to Melissa Jean's page wrote: "I love her confidence. Beautiful."
We love the real, raw insight Melissa Jean has captured here. Fair play to Alyce for sharing such an intimate insight into her post-birth experience.
SHARE with a fellow new mum who will love this.