A South Carolina mum has admitted that she went into "hysterics" when daycare staff told her they had accidentally fed another woman's breast milk to her son.
The woman shared her concern via social networking site Reddit under the user handle 'Ferret Miracles', and said that she was "freaking out" after receiving the phone call from equally concerned employees at the daycare centre.
After realising the mistake, staff informed the mum that they had monitored the child's temperature and breathing to ensure that he wasn't adversely affected.
Taking to Reddit to share her story, the mum explained: "I realise he will most likely be fine, but I know nothing about this other woman and her health or habits…I would totally let him have milk from a person I know and trust, but the fact that it was a stranger gives me the heebee jeebs."
Needless to say, Ferret Miracles' post sparked intense debate on the subject of
breeastfeeding
and
sharing
breast milk, with some people criticising her reaction.
"Ever hear of a wet nurse? Honestly, it's less dangerous than a kid consuming a handful of dirt, pool water, cat litter, or any of the other disgusting things our children can and often will put in their mouths," wrote one user.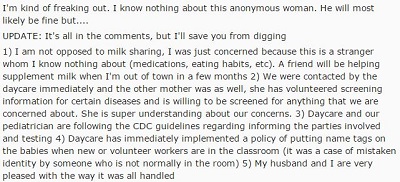 Another expressed their concern over the safety precautions taken by the centre: "What if it was medicine and not breast milk? It's serious that there was mistaken identity."
Ferret Miracles went on to update her followers in the past 24 hours, revealing that the centre had implemented a new system to ensure that the mistake did not happen again.
What are your thoughts?