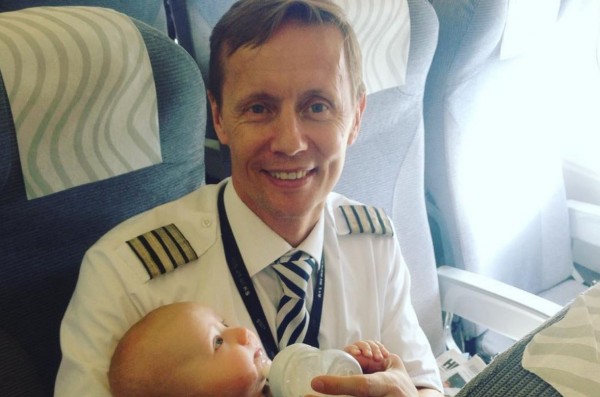 Travelling with children – especially babies – can be really hard. Between trying to keep them calm and fed, and strangers giving you dirty looks every time they cry, it can be downright overwhelming.
A mother travelling with her four young children – two of whom were babies – on a Finnair flight recently can certainly attest to this. Luckily for her though, she was travelling with some of the best airline crew in the industry.
The unnamed mother was having a tough time trying to look after her little ones all by herself. The two babies needed feeding, but she couldn't hold them both on her own lap.
Step up Captain Tom Nystrom, who offered to hold one of the mother's babies on his own lap and feed him his bottle. And his generosity didn't end there; when one baby would become fussy, he would hand him back to his mother and take the other child.
Captain Tom's colleague, flight attendant Ami Niemela, took a photo of him hard at work and posted it to Instagram, to share the story and the love.
"Today we had a mother on board travelling with four little boys. Two of the boys were just babies. Naturally, one cannot travel with two babies on one's lap, so we had to solve the dilemma of the missing lap, otherwise it would have been a no-go for Mum and the kids," she explained.
"Luckily, we had our positioning crew on board, and wonderful Tom took the task of being the extra lap. Don't you find them quite adorable?!"
Needless to say, the Instagram community was very impressed by Captain Tom and the wonderful Finnair staff.
One replied, in the comments section: "This is incredibly inspiring and kind. I've travelled alone with my babies and it's so hard. Having strangers show you this kind of kindness during this stressful time means more than anyone can know. Even offering to help with the baby so Mum can go to the toilet is appreciated immensely."
We're not surprised to learn since that Finnair was recently awarded Best European Airline at the prestigious TTG China Travel Awards – for the second time running. With staff like that, they deserve every award that's coming their way!