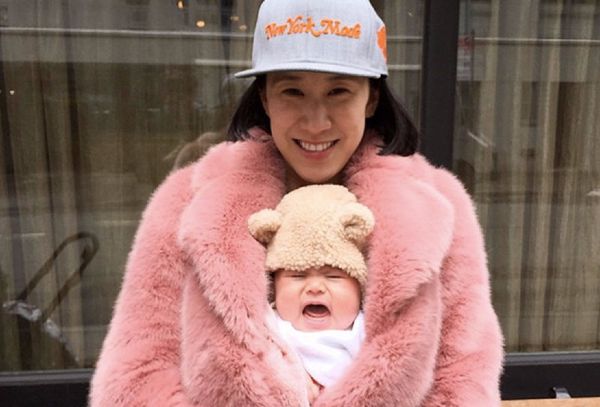 Eva Chen is one of the most influential people in fashion, currently bossing it up as director of fashion partnerships at Instagram.
In a past life, Eva was the editor of Lucky Magazine, and was beauty editor of Teen Vogue also.
And while we are truly obsessed with Eva's style, it is her #momlife that we're truly in awe of.
Proud mama to two ADORABLE kiddos, Ren and Tao, Eva is living and breathing proof that mums really can do it ALL.
Honestly, not a day goes past where I don't find myself scrolling through Eva Chen's Instagram, wishing I could swap lives with her, just to hang out with her sassy but gorgeous daughter, Ren.
Ren, and her baby brother Tao, are the stars of Eva's popular Instagram account, that documents their awesome NYC life.
From gorgeous style pictures with little Ren, to too-cute-to-handle swaddling videos with baby Tao, Eva Chen is the epitome of Mum goals.
Take a look, and let us know if you agree!
1. Here she is, perfectly 'balancing' her home life and work life.
2. Nothing to see here, just the cutest family ever.
3. Take your tot to work day.
4. Next up: take your baby to Pride day!
5. If you can't photobomb your own kids, who can you photobomb?
6. Baby dress up is the best kind of dress up.
7. Couture gown featuring infant = cuteness overload.
8. Introducing her baby to the world.
9. Nine months pregnant at a fashion show? Not a bother.
10. Eva, we heart you!