My family are big fans of barbecue meals so we were thrilled to be given the opportunity to try the new Calor Mini BBQ. The large box was met with great excitement and squeals of delight when we discovered just how small and dinky it was underneath all of that protective packaging for the all important gas canister. The size of the mini BBQ is the first thing that struck me. With it's clever handle I was already imagining barbecues in the countryside and down at the beach as the long summer stretches out in front of us.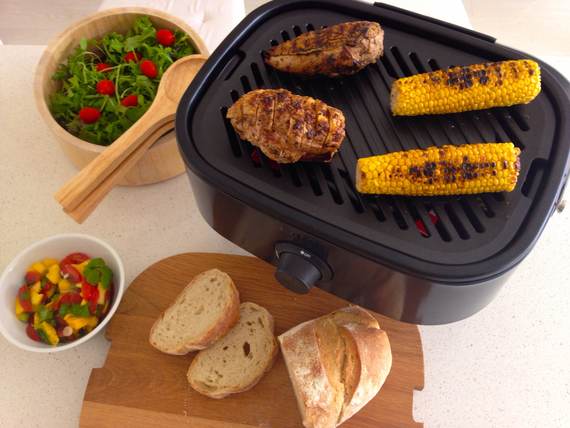 The Calor Mini BBQ is easy to put together, pop in the drip tray for the grease and decide whether you want to attach it to a large gas canister which you may already have at home or use the small portable canister that fits neatly into the base of the barbecue for travel.
Next question what and where to cook! The mini barbecue is only suitable for outdoor cooking and since our new garden patio furniture had arrived only the day previously, what better place to start. Votes were counted as we decided on our menu - Lucy and James wanted sausages and corn on the cob, while mummy and daddy opted for marinated chicken breasts with mango salsa.
What I love so much about barbecuing is the family occasion of it all. Everyone is always in great form sitting down to eat around the barbecue and there's no "what's for dinner - I don't want it" rows! What's even better about this Calor Mini BBQ is that it can sit right on top of your picnic table, it's that neat. We piled the barbecue with chicken breasts and sausages, cooking the corn on the cob after the meat was done. There is plenty of room on the non-stick barbecue griddle to put four burgers, chicken breasts, salmon steaks or sirloin steaks, making it a practical choice for every family whether cooking at home or further afield.
After the feast was over, we made plans as to where next to try our little barbecue out and one of the kids even suggested taking selfies with it as we travel the country over the summer holidays! "Let's call it Barry the BBQ" and we can take it with us everytime we go on an adventure," James said. That sealed the deal, 'Barry' is now booked into go to climb the sugarloaf mountain in Wicklow this weekend and Lucy is looking forward to bring it down to our mobile home in Wexford during the Summer. "Can we bring it over to Auntie Claire's house after swimming lessons today?", piped up Lucy, apparently she she doesn't have a barbecue and her kids love sausages!
WIth a really cool design, the Calor Mini BBQ is easy to use, clean, and transport making it a must-have for your family's fun mealtimes and adventures this summer. The cover even doubles up as a practical wooden chopping board! Thumbs-up from the Mum-in-Residence here at MummyPages.ie and all of the Haugh family.