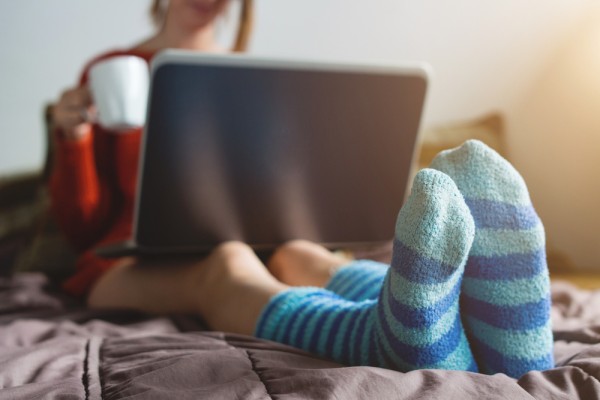 Congratulations - you have taken a huge first step in your writing! We are so delighted that you are part of our blogger network!
What do I write about?
Ideally, your writing will be about a specific topic that is relatable to others - ask a question about a certain topic, discuss the emotions of having your child start school, outline your own personal birth story, pondering about motherhood or fatherhood, rants about everything from bump touching to comments about your post-baby body and everything else in between. Our bloggers are ultra-relatable, never judgemental and always supportive but honest. Copy should be no more than 1000 words long. Paragraphs should be short and punchy.
Will you change my work?
We might slightly adjust your headline to make it more social media-friendly as we know what works when it comes to getting as many people as possible to read your writing. We may change the formatting or correct typos. If there are any major changes or we have questions we will send the article back to you for changes. Once we are all happy with how it looks we publish it.
Any dos or don'ts?
We won't be able to publish any work that blatantly promotes products or services or contains any external links. The only link will be the one from your Author biography at the end of the article which links to your blog or pages.
Anything else?
In the coming weeks, we will be sending you the image of a MummyPages Voices badge that you can proudly display on your blog. This should also link through to your author page on the website.
Any questions?
Contact us on, ourvoices@sheologydigital.com Let's get started! We look forward to receiving your work!
Here's the science part:
1. We will send you log-in details which will give you access to our online system. You can find it here: https://ses.sheologydigital.com/login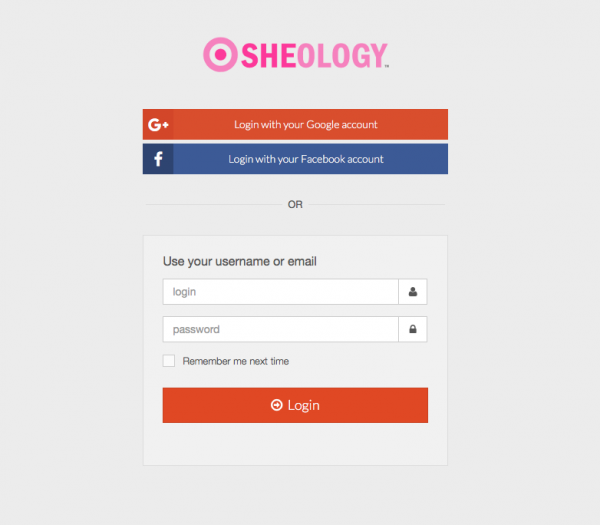 2. It will bring you to your own hub where you can write your story, add images and preview your article. It should look similar to this.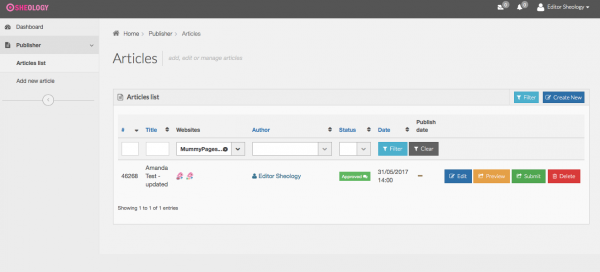 3. Click on add new article to get started.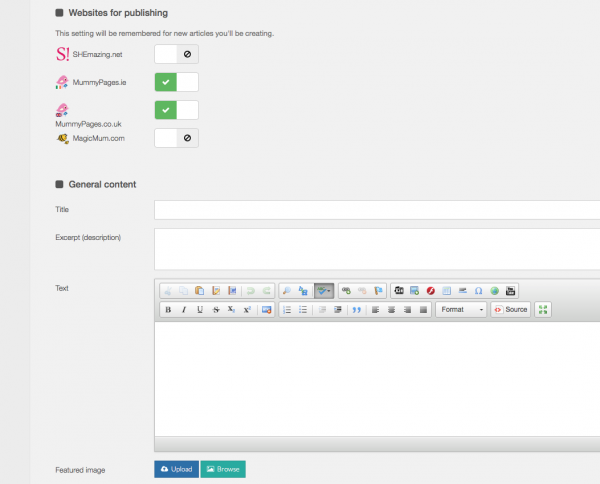 4. Leave both MummyPages boxes ticked. Write your chosen Title, leave Excerpt blank and write your story in the Textbox or copy and paste your article. It is important to put DOUBLE SPACING between all your paragraphs and keep your paragraphs short. Try to keep your writing to under 1000 words if possible. All that is left is adding your images and finally a feature image. You can ignore everything else. Choose a non-posed picture or one that you have taken yourself to illustrate your writing, make sure they are landscape and get the permission of anyone that is in the picture before submitting it. If you have access to Shutterstock or Twenty20 you can find some really nice images. Try to steer away from any that look too posed. Keep in mind that bright, pretty and natural photos do best.
5. When you click on the blue box called Upload for your featured image it should invite you to upload files from your own computer. We usually advise that your image is 1000 x 667 pixels which you can adjust using a free imaging site like Canva.com. When you find your preferred image click upload. It gives you the option to remove, view or adjust the picture which you shouldn't need to do once you have formatted it correctly. Don't forget to also upload the same feature image to the top of your article. This version should be 600 x 400 centred.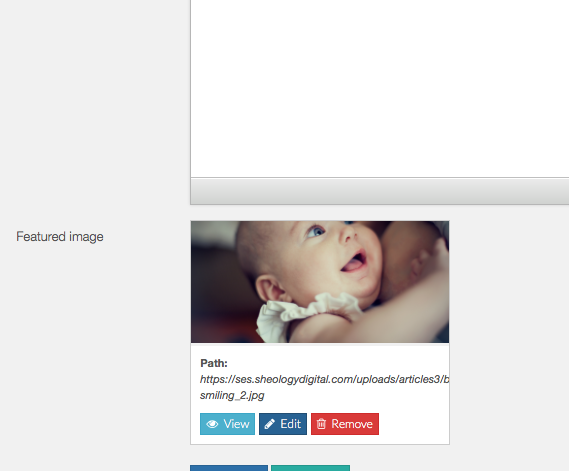 6. How do you add pictures?
Decide where you are going to put your image in the body of your article. Click on the little window icon in your toolbar and click on it.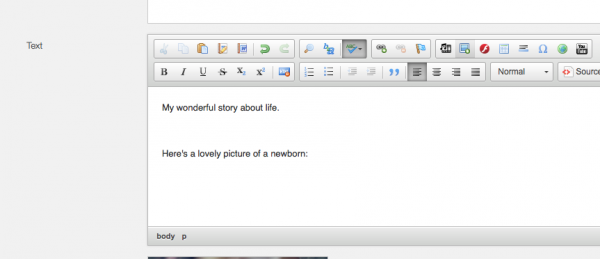 It will bring you into a window like this:
Choose your image and try to get the settings 600 x 400 pixels and centre it.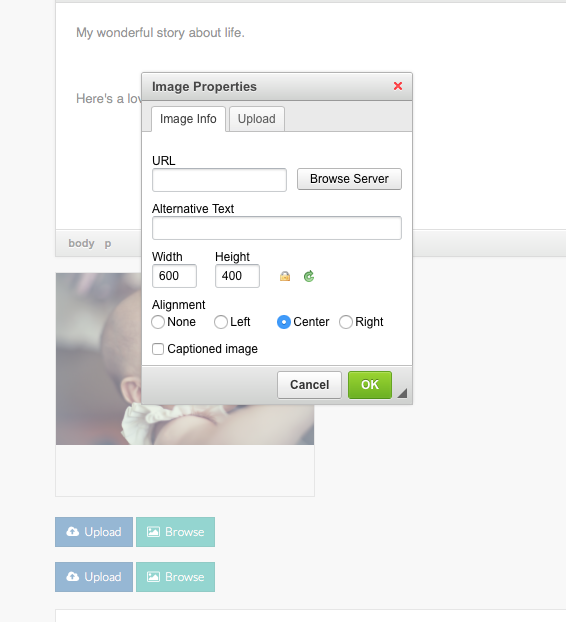 7. When you are happy with your headline (punchy) grammar and formatting. Click submit and we will receive your article. We will take a look at either get back with comments or go ahead and publish. If it gets the go-ahead, your article will usually appear on MummyPages.ie and MummyPages.co.uk unless it is very specific to one country. You will find it under the VOICES section on the homepage. We will then usually push it out on our social media platforms including Facebook and Twitter. (Make sure you follow us on Facebook MummyPages Voices)
8. Pop online and get involved with your readers - add comments and get engaging! Congratulations - you now have a platform for all your work. Share with your friends and let's get the conversation started.
By submitting your article you are agreeing to our terms and conditions (below)
9. Terms and Conditions
The policies below are applicable to Sheology network of websites, including mummypages.co.uk and mummypages.ie (including any versions optimised for viewing on a wireless or tablet device); all email newsletters published or distributed by Sheology; and all other interactive features, services, and communications provided by Sheology ("Sites"), however accessed and/or used, that are operated by us, made available by us, or produced and maintained by Sheology (collectively "MummyPages" "Sheology" or "we", "us", or "our"). In addition to the Content on the Sites, the Sites provide you with various opportunities to submit and link content and participate in various community services ("Services"). BY USING OUR SITES AND THE SERVICES YOU ARE ACCEPTING THE PRACTICES DESCRIBED IN THESE TERMS OF USE. IF YOU DO NOT AGREE TO THESE TERMS OF USE, PLEASE DO NOT USE THE SITES AND EXIT IMMEDIATELY. WE RESERVE THE RIGHT TO MODIFY OR AMEND THESE TERMS OF USE FROM TIME TO TIME WITHOUT NOTICE. YOUR CONTINUED USE OF OUR SITES FOLLOWING THE POSTING OF CHANGES TO THESE TERMS WILL MEAN YOU ACCEPT THOSE CHANGES. UNLESS WE PROVIDE YOU WITH SPECIFIC NOTICE, NO CHANGES TO OUR TERMS OF USE WILL APPLY RETROACTIVELY. Additional terms and conditions may apply to the purchase of products, such as shipping and return policies. By using the Sites, you agree to such terms and conditions.
This is a legal agreement between you ("you" or "user") and Sheology's rules that states the material terms and conditions that govern your use of the Sites. This agreement, together with all updates, supplements, additional terms, and all of Sheology's rules and policies collectively constitute this "Agreement" between you and Sheology. BY ACCESSING THE SITES, YOU AGREE TO BE LEGALLY BOUND BY THIS AGREEMENT. IF YOU DO NOT AGREE TO THE TERMS OF SERVICE AND CONDITIONS OF USE STATED HEREIN, PLEASE IMMEDIATELY LEAVE THE SITE.
5. Submission Policy. Where Sheology has specifically invited or requested submissions, Sheology encourages members of the public to submit user published content or user content (e.g. comments to stories, curation of story collections and related links and images, etc.) to Sheology in connection with the Site ("User Submissions"). User Submissions remains the intellectual property of the individual user. By posting content on our Site, you expressly grant Sheology a non-exclusive, perpetual, irrevocable, royalty-free, fully paid-up worldwide, fully sub-licensable right to use, reproduce, modify, adapt, publish, translate, create derivative works from, distribute, transmit, perform and display the User Submission and your profile information, including your voice and/or likeness as contained in your User Submission, in whole or in part, and in any form throughout the world in any media or technology, whether now known or hereafter discovered, including all promotion, advertising, marketing, merchandising, publicity and any other ancillary uses thereof, and including the unfettered right to sublicense such rights, in perpetuity throughout the universe. Any such User Submissions are deemed non-confidential and Sheology shall be under no obligation to maintain the confidentiality of any information, in whatever form, contained in any User Submission.
6. Inappropriate User Submissions. Sheology does not encourage, and does not seek User Submissions that result from any activity that: (i) may create a risk of harm, loss, physical or mental injury, emotional distress, death, disability, disfigurement, or physical or mental illness to you, to any other person, or to any animal; (ii) may create a risk of any other loss or damage to any person or property; or (iii) may constitute a crime or tort. You agree that you have not and will not engage in any of the foregoing activities in connection with producing User Submissions. If Sheology receives notice that a User Submission allegedly violates any provision of this Agreement, Sheology reserves the right to determine, in its sole discretion, if such a violation has occurred, and to remove any such User Submission from the Site at any time and without notice.
7. User Published Content. User published Content does not represent the views of Sheology or any individual associated with Sheology and we do not control this Content. In no event shall you represent or suggest, directly or indirectly, Sheology endorsement of user published Content. Sheology does not vouch for the accuracy or credibility of any user published Content on our Sites, and does not take any responsibility or assume any liability for any actions you may take as a result of reading user published Content on our Sites. Through your use of the Sites and Services, you may be exposed to Content that you may find offensive, objectionable, harmful, inaccurate or deceptive. There may also be risks of dealing with underage persons, people acting under false pretense, international trade issues and foreign nationals. By using our Sites, you assume all associated risks.
8. Advertising Rights. Sheology reserves the right to sell, license and/or display any advertising, attribution, links, promotional and/or distribution rights in connection with your User Submission, and Sheology and its licensors or affiliates will be entitled to retain any and all revenue generated from any sales or licenses of such advertising, attribution, links, or promotional or distribution rights. Nothing in these terms obligates or may be deemed to obligate Sheology to sell, license or offer to sell or license any advertising, promotion or distribution rights.
9. Usage of the Sites. Running or displaying the Sites or any information or material displayed on the Sites in frames or through similar means on another website without our prior written permission is prohibited. Any permitted links to the Sites must comply will all applicable laws, rule and regulations.
11. Inappropriate Material. You are prohibited from posting or sending any unlawful, threatening, defamatory, libellous, obscene, pornographic or profane material or any material that could constitute or encourage conduct that would be considered a criminal offence or give rise to civil liability, or otherwise violate any law. Such violations may subject the sender and his or her agents to civil and criminal penalties. You further understand and agree that sending unsolicited email advertisements to any user of the Sites or the Sites or through voice computer systems is expressly prohibited by this Agreement. Any such unauthorised use of our computer systems is a violation of this Agreement and applicable "anti-spam" laws. In addition to any remedies that we may have at law or in equity, if we determine, in our sole discretion, that you have violated or are likely to violate the foregoing prohibitions or our other rules or policies, we may take any action we deem necessary to cure or prevent the violation, including without limitation, banning you from leaving comments or participating in creation of collections and/or the immediate removal of the related materials from the Sites at any time without notice. We will fully cooperate with any law enforcement authorities or court order or subpoena requesting or directing us to disclose the identity of anyone posting such materials.
14. Right to Takedown Content. You are solely responsible for the content of your submissions and Sheology shall have no obligation to prescreen any such content. However, we shall have the right in our sole discretion to edit, refuse to post or remove any material submitted to or posted on the Sites at any time without notice. Without limiting the foregoing, we shall have the right to remove any material that we find to be in violation of the provisions of this Agreement or otherwise objectionable to us, and the additional right to deny any user who fails to conform to any provision of this Agreement access to the Sites.
15. Representations and Warranties. You represent that you are over the age of 18, have the right and authority to enter into this Agreement, are fully able and competent to satisfy the terms, conditions, and obligations herein, and your use of the Sites and Services is and will be in compliance with all applicable laws, rules, and regulations. Furthermore, you are solely responsible for your own User Submissions and the consequences of posting or publishing them.
17. LIMITATIONS OF LIABILITY. Sheology does not assume any responsibility, or will be liable, for any damages to, or any viruses that may infect your computer, telecommunication equipment, or other property caused by or arising from your access to, use of, or browsing this Sites, or your downloading of any information or materials from this Sites. IN NO EVENT WILL Sheology OR ANY OF ITS OFFICERS, DIRECTORS, EMPLOYEES, SHAREHOLDERS, AFFILIATES, AGENTS, SUCCESSORS OR ASSIGNS, NOR ANY PARTY INVOLVED IN THE CREATION, PRODUCTION OR TRANSMISSION OF THE SITES, BE LIABLE TO YOU OR ANYONE ELSE FOR ANY INDIRECT, SPECIAL, PUNITIVE, INCIDENTAL OR CONSEQUENTIAL DAMAGES (INCLUDING, WITHOUT LIMITATION, THOSE RESULTING FROM LOST PROFITS, LOST DATA OR BUSINESS INTERRUPTION) ARISING OUT OF THE USE, INABILITY TO USE, OR THE RESULTS OF USE OF THE SITES, ANY SITES LINKED TO THE SITES, OR THE MATERIALS, INFORMATION OR SERVICES CONTAINED ON ANY OR ALL SUCH SITES, WHETHER BASED ON WARRANTY, CONTRACT, TORT OR ANY OTHER LEGAL THEORY AND WHETHER OR NOT ADVISED OF THE POSSIBILITY OF SUCH DAMAGES. YOU SPECIFICALLY ACKNOWLEDGE THAT Sheology SHALL NOT BE LIABLE FOR USER SUBMISSIONS OR THE DEFAMATORY, OFFENSIVE, OR ILLEGAL CONDUCT OF ANY THIRD PARTY, AND THAT THE RISK OF HARM OR DAMAGE FROM THE FOREGOING RESTS ENTIRELY WITH YOU. THE FOREGOING LIMITATIONS OF LIABILITY DO NOT APPLY TO THE EXTENT PROHIBITED BY LAW.
IN THE EVENT OF ANY PROBLEM WITH THE SITES OR ANY CONTENT, YOU AGREE THAT YOUR SOLE REMEDY IS TO CEASE USING THE SITES. IN NO EVENT SHALL Sheology TOTAL LIABILITY TO YOU FOR ALL DAMAGES, LOSSES, AND CAUSES OF ACTION WHETHER IN CONTRACT, TORT (INCLUDING, BUT NOT LIMITED TO, NEGLIGENCE), OR OTHERWISE EXCEED TWENTY-FIVE EURO.
18. Indemnity. You agree to defend, indemnify and hold Sheology and any affiliated company or individual harmless from any and all liabilities, costs, and expenses, including reasonable legal fees, related to or in connection with (i) the use of the Sites or the Internet or your placement or transmission of any message or information on this Sites by you or your authorised users; (ii) your violation of any term of this Agreement, including without limitation, your breach of any of the representations and warranties above; (iii) your violation of any third-party right, including without limitation any right of privacy, publicity rights or intellectual property rights; (iv) your violation of any law, rule or regulation of the United States or any other country; (v) any claim or damages that arise as a result of any User Submission that you provide to Sheology; or (vi) any other party's access and use of the Sites with your unique username and password.
19. Release. In the event that you have a dispute with one or more other users of the Sites, you release Sheology (and our officers, directors, agents, subsidiaries, joint ventures and employees) from claims, demands and damages (actual and consequential) of every kind and nature, known and unknown, suspected and unsuspected, disclosed and undisclosed, arising out of or in any way connected with such disputes.
20. Termination. You or we may suspend or terminate your account or your use of this Sites at any time, for any reason or for no reason. We may also block your access to our Sites in the event that (a) you breach this Agreement; (b) we are unable to verify or authenticate any information you provide to us; or (c) we believe that your actions may cause financial loss or legal liability for you, our users or us.
21. Force Majeure. Neither Sheology nor you shall be responsible for damages or for delays or failures in performance resulting from acts or occurrences beyond their reasonable control, including, without limitation: fire, lightning, explosion, power surge or failure, water, acts of God, war, revolution, civil commotion or acts of civil or military authorities or public enemies: any law, order, regulation, ordinance, or requirement of any government or legal body or any representative of any such government or legal body; or labor unrest, including without limitation, strikes, slowdowns, picketing, or boycotts; inability to secure raw materials, transportation facilities, fuel or energy shortages, or acts or omissions of other common carriers.
22. Privacy. Data collection and use, including data collection and use of personally identifiable information is governed by Sheology's Privacy Policy which is incorporated into and is a part of this Agreement.
23. General. Any claim relating to, and the use of, this Sites and the materials contained herein is governed by the laws of the Republic of Ireland.
We do not guarantee continuous, uninterrupted or secure access to our Sites or Services, and operation of the Sites may be interfered with by numerous factors outside of our control. If any provision of this Agreement is held to be invalid or unenforceable, such provision shall be struck and the remaining provisions shall be enforced. You agree that this Agreement and all incorporated agreements may be automatically assigned by Sheology in our sole discretion. Headings are for reference purposes only and in no way define, limit, construe or describe the scope or extent of such section. Our failure to act with respect to a breach by you or others does not waive our right to act with respect to subsequent or similar breaches. 25. Entire Agreement. This Agreement is the entire agreement between you and Sheology and supersedes any prior understandings or agreements (written or oral). 26. Additional Assistance. If you do not understand any of the foregoing terms of this Agreement or if you have any questions or comments, we invite you to contact us. 27. We reserve the right to make changes to the format of the work including grammar and changing the headline wording.28. No product promotion will be accepted within the body of your writing. No external links.