Dr. Amy Clements-Cortes is an Assistant Professor at the Faculty of Music, University of Toronto. As a music therapist, registered psychotherapist and new mother, her study of the role that music plays in our ability to bond with our babies is particularly interesting.
She examines the role of music and music therapy in the bonding of parents and children, and how music can support and impact the relationship you have with one another. She makes sure to incorporate singing into her everyday activities with her baby daughter, but particularly into the 'care' moments of the routine, like bathing and eating. Care, like music helps to form an attachment.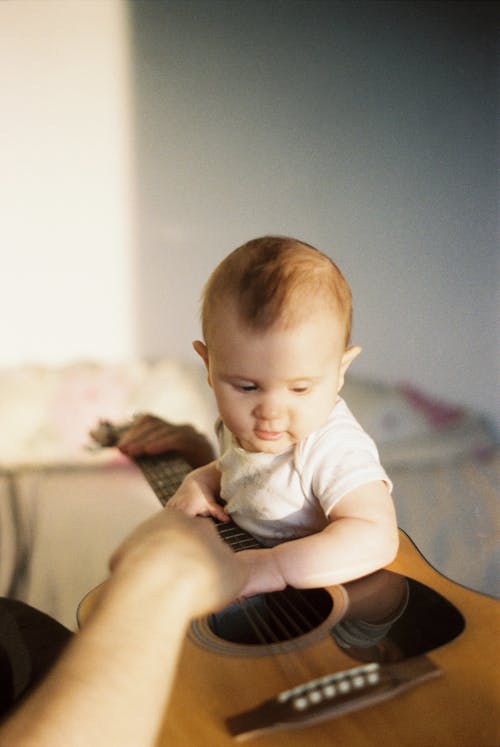 She looks at Bowlby's 'attachment theory' (1969) which claims that we form emotional and affectional bonds beginning at birth which allows us to feel connected to others. By being consistently emotionally available, attachments between you and your infant can be formed, and one of the ways of being emotionally available for engagement is through music.
Music, "music engages shared focus and attention, rhythmic entrainment promotes mutual movement and regulates emotional states, musical structure fosters expectation for shared give and take, and melodies support momentum toward response". Essentially, when making music together, you are physically close, engaging in eye contact and communicating. These kinds of actions are proven to boost brain development and create a bond. It fosters 'emotional communication', trust, comfort, and promotes infant's 'emotional regulation'.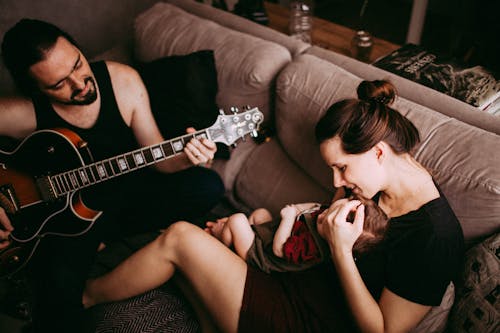 In regards to music therapy for children, many researchers have found that it 'facilitates improved parent-child relationships by assisting the parent in their responsiveness and self-efficacy while assisting the child in developing resilience, communication and social skills'.
So there's tons of reasons to start engaging your child in musical communication! We've come up with a few easy ways to practice music communication in your home using every day household items.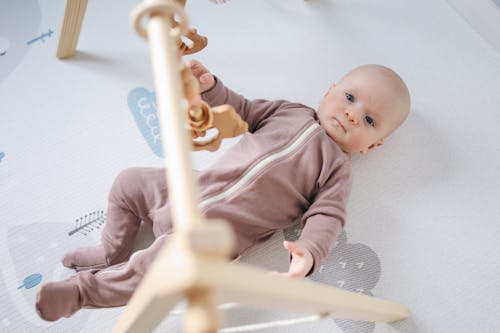 Coffee Drum
Empty out a coffee can and set it upside down.
Wrap the sides with colourful wrapping paper, or even shiny tinfoil – the more colur and stimulation the better!
Using a wooden spoon, tap the top of your coffee 'drum' and encourage baby to do the same. Copy them, or encourage them to copy you, as mirroring is an important form of social interaction in infants. It's noisy, but worth it to see their little faces light up!
Rainmaker
Grab an empty tube of kitchen roll.
Get a piece of tinfoil and cover one end of the tube, using an elastic to secure it.
Put a handful of uncooked rice grains inside.
Secure the other end of the tube with tinfoil and an elastic.
Shake to make a rhythm and rainfall sound!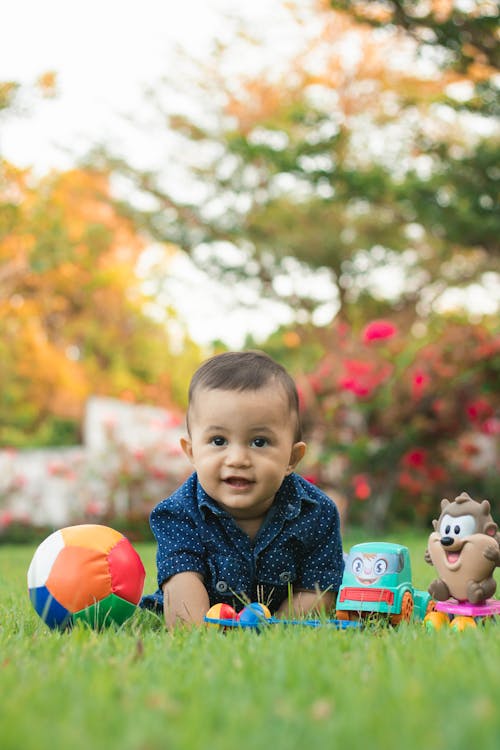 Plastic plate cymbals
Place beads, or dried beans, or even little bells, if you have them, on a paper plate.
Place another paper plate face down on top of the plate with beads, beans or whatever you want.
Staple along the outside of the plates to hold them together and make sure that nothing escapes.
Grab a wooden spoon – or your drumsticks! – and make some noise!
Tambourine
Place a paper plate face down on top of another paper plate that is face up.
Staple them together along the side and paint it a vibrant colour.
Poke 5-6 holes along the rim of the plates at even intervals.
Using a small piece of string or a thin ribbon, tie bells to the side of the plate to make a tambourine. The ones that come on the little Lindt chocolate bunnies have a great sound are the perfect size!
There are lots of possible percussion combinations that can be made, and they depend on the material of the vessel – tin, glass, plastic, wood – and the material used to make the noise – bells, beans, dried pasta, gravel – the possibilities are endless! What's important is that it's all stimulating baby's brain development.
Let us know in the comments which instruments you and your baby will be trying out together!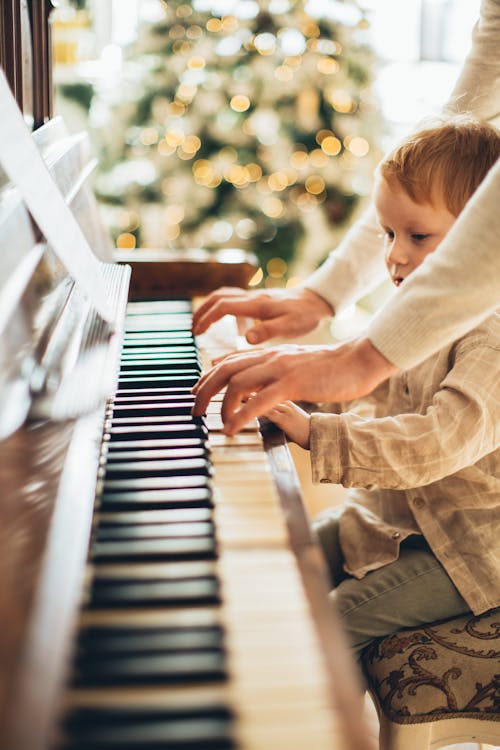 (Clements-Cortés, Amy. "Music and Parent-Child Attachment and Bonding." Canadian Music Educator / Musicien Educateur Au Canada, vol. 61, no. 3, Apr. 2020, pp. 48–50.)