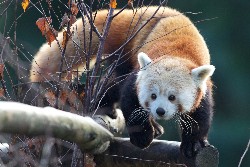 Dublin Zoo in the Phoenix Park is one of the top the family attractions in Ireland and truly one of the best family days out. It's a unique combination of fun and education about the world we live in. Kids of all ages will love the huge array of animals on display, from the city farm to the African plains. Dublin Zoo is one of the oldest zoos in the world, first opening its gates in 1831. The zoo is involved in conservation and research in partnership with zoos around the world. Dublin Zoo is a magical place for children. Once inside, the Victorian buildings, elegant landscaping and the exotic sounds of the animals add to the unique excitement.
What to see:
Keeper talks and feedings:
Be sure to begin by checking out the daily schedule of keeper talks and feedings.
You might only wish to attend one or two of these and looking at the schedule in advance will ensure you don't miss the sea lion splash or the chimpanzee chat!
March – September: Daily
October – February: Weekends
11:15 Sumatran Tiger
11:45 Orang utan
12:00 Reptile House
12:30 Elephant Encounters
12:45 Chimpanzee Chat
2:15 Sea lion Splash
2:30 Penguin
2:45 Giraffe
3:00 Rhino
*Occasionally daily activities may not take place due to animal care reasons.
African Savanna at Dublin Zoo
In April 2009, the African Savanna was officially opened, which has been developed as part of the African Plains. The Savanna has been created in order to improve the lives of many of the larger African animals and allows for many of them to be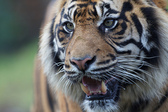 located together in an environment that more accurately represents their traditional habitat. In the Savanna you will see giraffe browsing, zebras grazing and hunting dogs prowling. Look out for the rhino, ostrich,
bongo
and Scimitar Horned Oryx, which is an endangered species already extinct in the wild. Don't miss your chance to see the chimpanzees playing as they're always wonderfully entertaining.
The Family Farm at Dublin Zoo
The family farm brings a taste of the country to a little part of Dublin's city centre. The Family Farm is Ireland's smallest farm with an acre of fun that represents an island of farming. The main attractions include sheep, pigs, goats, ducks, rabbits and chickens. There is even a dairy cow, which can be seen getting milked on the farm everyday! There is a playground full of model animals which kids just love and a farmhouse school filled with fascinating information.
For more information:
You can also check out prices, directions and opening times for Dublin Zoo
here
.