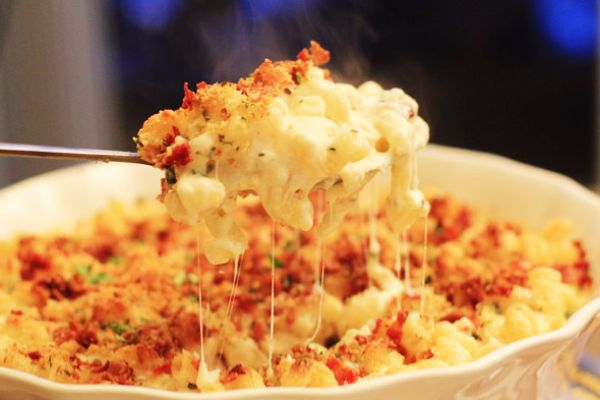 Listen, we've all had a long and busy weekend, and are looking for some serious comfort food for dinner this evening - something easy and delicious.
Enter: macaroni and cheese - the ultimate comfort food.
Now, we don't mean one of those microwave meals with the creepy looking faux cheese, we want an almost gourmet tasting delicious meal that is easy to assemble.
With that in mind, we have found some of the most amazing mac 'n' cheese recipes on the Internet that will make the perfect Sunday dinner for you and the kiddos.
You can thank us later:
What you'll need:
sea salt
freshly ground black pepper
45 g butter
3 heaped tablespoons plain flour
10 cloves garlic , peeled and finely sliced
6 bay leaves
1 litre semi-skimmed milk
600 g dried macaroni
8 tomatoes
150 g Cheddar cheese , freshly grated
100 g Parmesan cheese , freshly grated
a few sprigs fresh thyme , leaves picked
2 splashes Worcestershire sauce , optional
1 grating nutmeg , optional
3 big handfuls fresh breadcrumbs
olive oil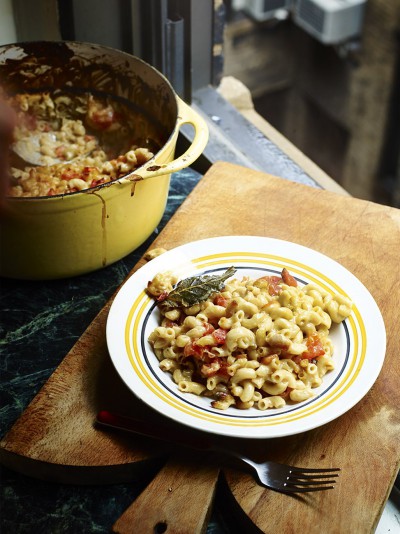 What you'll do:
Get a large pan of salted water on the boil. Melt the butter in a large ovenproof saucepan over a low heat, then add the flour and turn the heat up to medium, stirring all the time, until you get a paste. Add all the sliced garlic. Keep cooking and stirring until golden and the garlic is nice and sticky.
Add the bay leaves and slowly whisk in the milk a little at a time to ensure you get a nice smooth sauce. Bring the mixture to the boil, then leave it on a low heat to simmer and tick away, stirring occasionally. Preheat your oven to 220ºC/425ºF/gas 7.
Add the pasta to the pan of boiling salted water and cook according to the packet instructions.
Meanwhile, roughly chop the tomatoes on a board and season them well with salt and pepper. Drain the pasta and add it immediately to the sauce. Give it a good stir and take the pan off the heat. Stir in your grated cheeses, chopped tomatoes and thyme leaves.
A little Worcestershire sauce added now is nice, and so is a little grating or two of nutmeg. Now work on the flavour – taste it and season it until it's hitting the right spot. You want it to be slightly too wet because it will thicken up again in the oven, so add a splash of water if needed.
If you've made your sauce in an ovenproof casserole-type pan, leave everything in there; if not, transfer it to a deep earthenware dish. Bake it for 30 minutes in the oven, until golden, bubbling, crispy and delicious.
While it's cooking, put your breadcrumbs and thyme into a pan with a few drizzles of olive oil over a medium heat. Stir and toss the crumbs around until crunchy and golden all over. Remove from the heat and tip into a nice bowl.
What you'll need:
1 package elbow macaroni
1/4 cup butter
2 garlic cloves, minced
1/4 cup all-purpose flour
1 tablespoon ground mustard
1 teaspoon salt
3/4 teaspoon pepper
2-1/2 cups milk
3/4 cup amber beer
1/4 cup heavy whipping cream
3 cups grated cheddar cheese
2 cups grated fontina cheese
2 tablespoons grated Parmesan cheese
2 tablespoons minced chives
5 bacon strips, cooked and crumbled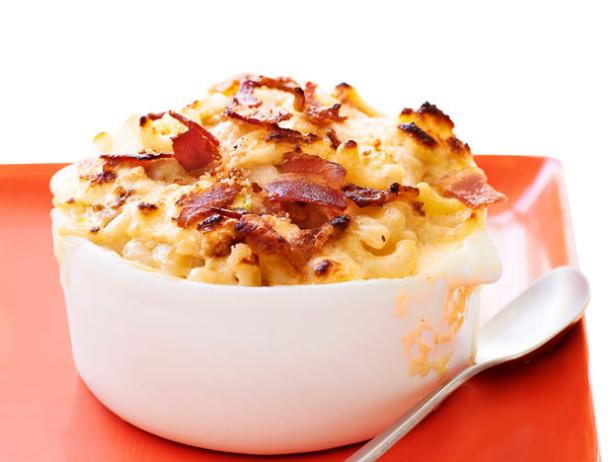 What you'll do:
Cook macaroni according to package directions for al dente.
Meanwhile heat butter over medium-high heat. Add garlic; cook and stir for 1 minute. Stir in the flour, mustard, salt and pepper until smooth; gradually whisk in the milk, beer and cream. Bring to a boil; cook and stir for 2 minutes or until thickened.
Reduce heat. Stir in 2 cups cheddar cheese, fontina cheese and 1 tablespoon Parmesan cheese until melted. Add chives.
Drain macaroni; stir into sauce. Transfer to a greased baking dish. Sprinkle with remaining cheddar and Parmesan cheeses.
Bake, uncovered, at 400° F for 15-20 minutes or until golden brown and heated through. Top with crumbled bacon. Let stand for 5 minutes before serving.
What you'll need:
Unsalted butter for baking dish, plus 4 Tbs
Salt, to taste
1 lb. elbow macaroni
2 tsp. truffle oil
1/4 cup all-purpose flour
1/2 tsp. sweet paprika
1/2 tsp. Dijon mustard
2 cups milk
1 cup half-and-half
Freshly ground pepper, to taste
1 1/2 cups shredded Gruyère cheese
1 1/2 cups shredded white cheddar cheese
2 Tbs. minced fresh chives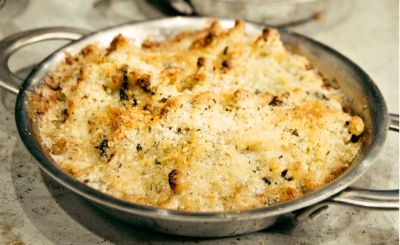 What you'll do:
Preheat the oven to 375°F. Butter a 9-by-13-inch baking dish.

Bring a large saucepan of salted water to a boil over high heat. Add the macaroni and cook, stirring occasionally, until not quite al dente, about 2 minutes less than the package instructions. Drain and transfer to a large bowl. While the pasta is still warm, drizzle with the truffle oil and stir well.

Return the saucepan to medium-high heat and melt the 4 Tbs. butter. Add the flour, paprika and mustard and cook, stirring well, until no visible flour remains, 1 to 3 minutes. Whisk in the milk, half-and-half and a generous pinch of salt and bring to a boil. Simmer, whisking frequently to smooth out any lumps, for 4 to 5 minutes. Remove from the heat. Add a pinch of pepper and 1 cup each of the Gruyère and cheddar. Stir until smooth.

Pour the cheese sauce onto the macaroni, add the chives and stir well. Transfer to the prepared baking dish and top with the remaining cheeses. Bake until the top is lightly browned and the sauce is bubbly, 25 to 30 minutes. Let stand for 5 minutes before serving.