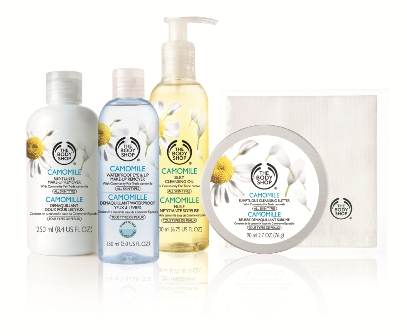 It can be hard to find a make-up remover that is gentle on your skin but tough enough to remove even waterproof mascara which is why we were so excited to hear about the new Camomile make-up removal collection. The collection leaves your skin irresistibly soft and petal fresh and is enriched with the pure calming power of community fair trade camomile. Who knew make-up removal could feel so good!
The camomile make-up removal collection includes:
Camomile Sumptuous Cleansing Butter €14.95 RRP Our Hero
Our luxurious velvety butter melts into a smooth cushioning oil to effortlessly remove every layer of make-up in an instant.
Gentle Eye Make-Up Remover €12.50 RRP
Soothing and non-oily, it gently removes make-up from lashes and lids in seconds. Every bottle contains Community Fair Trade camomile oil from over 100 camomile flowers.
Camomile Silky Cleansing Oil €17.20 RRP
This divinely supple oil is the ultimate time-saver. It delivers an ultra-fresh, clean finish in a flash, with no stickiness or residue. Featuring a blend of skin-softening oils and the calming power of our Community Fair Trade essential camomile oil, it leaves skin feeling softer.
Waterproof Eye Make-Up Remover €13.50 RRP
Our new waterproof make-up remover has a dual-phase formula which delivers effective results in one application. It's enriched with Community Fair Trade essential camomile oil to be delicate on skin around eyes.
Muslin Cloth €3.90 RRP
Our Community Fair Trade 100% organic cotton cloth makes for an even more thorough cleanse. And for an invigorating spa-like experience, leave the warm cloth on your skin for a facial steam.
The Camomile Make-up removal is available in-store from Thursday 25th