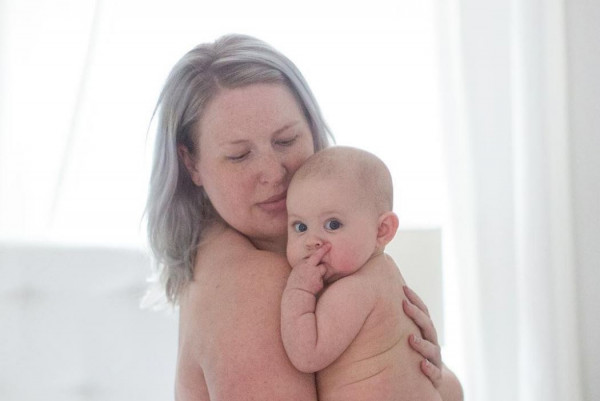 Very few of us feel like staging a photo shoot after giving birth – it can be a tough time, characterised by uncertainty and vulnerability.
Therefore, we can totally empathise with photographer Tiffany Burke as she posted a photo that was 'not easy to share' – and salute her for her powerful words and sentiments.
Tiffany – a mum-of-five – took to Instagram to share a photo of herself with baby Quinn, to discuss the power of loving and being kind to yourself.
"This is what 70 lbs overweight looks like," she wrote.
"This is what exclusively breastfeeding yet gaining weight looks like.
"This is what a working mum, with no makeup and no time for self-care looks like."
However, most importantly, this is also 'what her happiness looks like'.
Tiffany explained that she cannot work out to the level she is used to, for fear she will lose her milk supply. She is also eating as much food as her body is craving, and isn't about to feel bad about 'downing a sleeve of Oreos and feeling giddy'.
Rather than feel guilty or punish herself, Tiffany is taking an inspiring and healthy attitude to this time in her life. She is of the belief that 'her body can wait a bit' – and she is both happy and proud of that decision.
We can all learn a lesson or two from Tiffany, and she is making it easy with the following beautiful analogy.
"My body is the home I keep. And like my home, it ebbs and it flows as the seasons of my life do," she wrote.
"My home is sometimes messy, sometimes clean; sometimes both.
Our bodies are affected by so many physical and emotional situations, from divorce to IVF; and Tiffany truly believes that we 'must give grace and find ways to self-love as often as we can'. Can we get an amen?!
Tiffany's parting message is to 'be healthy, be strong, make a change when you can, be you, be unafraid; ignore the rest'.
"It's OK is someone thinks I'm not pretty. I'm not here on this planet to please their eyeballs. I am worth so much more, and so are you. Baby Quinn agrees," she added.
We have SO much love for Tiffany's post.