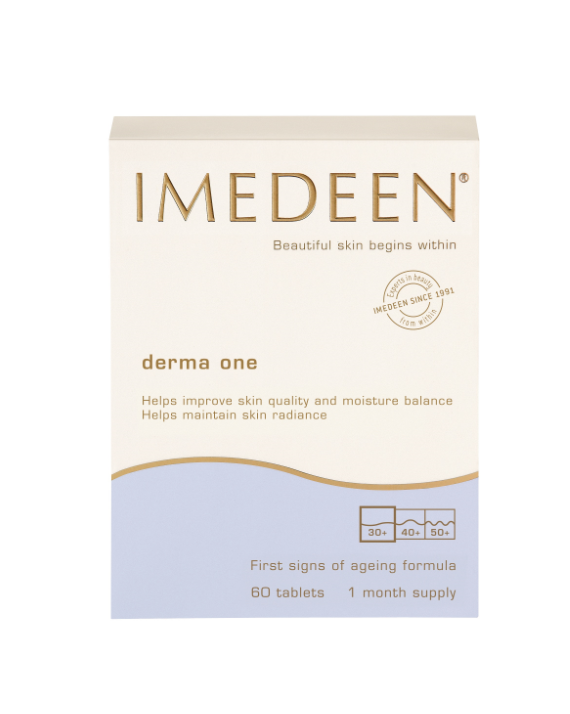 Would you like to get the most personalised conditioning plan for your skin possible?
The skin's appearance can alter considerably due to age and hormonal changes in the female body - and that's before external factors such as the environment, lifestyle and UV damage can stimulate the production of free radicals and cause premature skin ageing.
While you may moisturise every day, your skin's overall appearance and quality is actually determined by the condition of the deeper, structural layer of skin – the dermis. This is where the collagen, elastin and moisture retaining elements are found and it's here that Imedeen skincare supplements are proven to work, while creams can't.
Imedeen boosts vital supplies of collagen, elastin and moisture levels, resulting in softer, smoother, more youthful-looking skin, helping to support and protect the skin's vital building blocks for long term beauty benefits.
To help women experience improved skin condition, skincare experts from Imedeen are touring the nation, offering free one-to-one skin scanning consultations in selected pharmacies all over Ireland.
Imedeen's skin scanning technology will reveal the quality of your skin by measuring the level of collagen and elastin in your skin's dermal layer. Based on your reading, your Skincare Advisor will recommend the most suitable Imedeen skincare supplement product for your skin. And you know you're in good hands, with s
tatistical analysis confirming women who use Imedeen skincare supplements have on average 30% better skin density than non-Imedeen users.
Gambling on good genes and a healthy lifestyle alone might seem like a good option but supplementing your daily skincare routine with Imedeen will ensure skin on your face and body stays younger for longer – whatever your age. All Imeden skincare supplements contain the exclusive ingredient Marine Complex, an extract rich in proteins and polysaccharides, similar to those found naturally in the skin's supportive tissue. This ingredient has the ability to nourish the skin from the inside and slow down the skin's natural ageing process.
Upcoming IMEDEEN skin scanning events:
11th July Flanagan's Pharmacy, Shop Street in Galway
17th July Valu+ Pharmacy, Drumalee, Cavan
18th July Doyle's Pharmacy, Clontarf, Dublin
19th July McCabe's Pharmacy, Dundrum Town Centre, Dublin 14
25th July Pharmacy First Plus, Glanmire, Co. Cork
A full list of IMEDEEN skin scanning events is available on
www.imedeen.ie