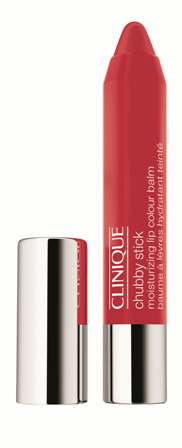 Here at MummyPages, we love the Chubby range of colourful lip crayons from Clinique. This lip balm is great for moisturising dry lips while bringing them to life with vibrant colour. They are very convenient to pop into the handbag and we've even used it to bring a bit of colour to our cheeks on days our faces looks dull and pale from tiredness.
So we were very excited to here that Clinique has added eight new shades to the Chubby range – and we love them all! The Curvy Candy colour adds a lively pink stain to lips while the Mighty Mimosa and Heaping Hazelnut are nice subtle shades for the day. If you want something vibrant then go for stronger shades like Two Tone Tomato or Pudgy Peony and for mums who really love a daring lip colour, the Voluptuous Violet colour is ideal for a night out.
Chubby Stick Moisturising Lip Colour Balm's formula uses a special blend of decadent butter, oils and antioxidants to help protect and pamper lips. The balm is infused with Shea Butter, Mango Seed Butter and Jojoba Seed Oil, bringing a surge of moisture in a sleek stick, crayon-like barrel (keep away from the kids – they WILL use it for colouring!).
The new shades from Chubby Stick Moisturising Lip Colour Balm are available from June 2012 for €19.00