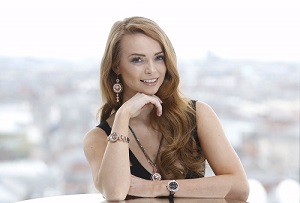 Two of Ireland's best-loved companies have collaborated on an exciting new range that is sure to delight fans of the brands everywhere.
This week, Guinness and Newbridge Silverwear announced that their iconic brands have come together to produce a beautiful premium collection of jewellery, homeware and gifts that captures both the rich history of crafting expertise and excellence that is synonymous with both companies.
The result of more than three years of joint research and development by the two brands, the Guinness by Newbridge Silverware Collection features stunning jewellery, stylish yet practical homeware, and desirable decorations.
With a jewellery range catering to both women and men, the collection carries stunning pieces including watches, brooches, earrings, bracelets and pendants in silver-plating and rose gold.
The beautiful 1759 collection, a nod to Guinness' famous date, is inspired by the hops flower from which the beloved beer is brewed. As well as each piece being dated with '1759', the hops flower motif features strongly throughout the collection.
Meanwhile, the menswear collection, fronted by Newbridge Silverware ambassador and Irish rugby star Rob Kearney, features equally stylish pieces for the modern man, with silver-plated cufflinks bearing the pattern of the Guinness harp a stand-out feature.
Rob, who is also fronting the home collection, commented: "It is a great privilege to be associated with Newbridge Silverware as a distinctly iconic Irish brand and to help launch the collection which represents heritage, style and exquisite craftsmanship."
Homemakers will also be delighted by the homeware collection, which boasts some truly special handcrafted pieces. Among the practical yet stylish pieces are a hot plate, and roasting, casserole and soup dishes with a unique navy and cream hued finish. The collection, which ranges from €25 to €55, and also features further hand-finished textiles, is sure to suit both male and female styles.
The collection also boasts a stunning decorations line, with each piece a truly unique treasure. Designed with both the traditional and modern home in mind, this collection of hanging decorations, bookmarks and more, bearing 1759 detailing and harp motifs, will make for a perfect gift.
For more information on the collection, visit www.newbridgesilverware.com/guinness.