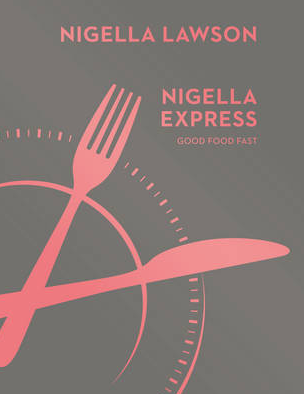 Fast food doesn't have to mean bad food as Nigella shows in her delightful book, Nigella Express Good Food Fast.
Most busy mums have little time to devote to cooking, so having a cookbook that not only offers quick dishes but nutritious and tasty ones, is a welcome life saver.
Nigella admits herself that the most stressful part of cooking is not actually cooking but rather buying the ingredients. So to help mums out, Nigella has kept the ingredient lists short and makes a point of reusing items throughout the book so nothing goes to waste.
The cookbook is an abundance of homecooked, easy meals and includes recipes for weekday dinners, quick breakfasts, prepare ahead dishes and our ever favourite quick party food recipes for the times you planned a party even though you really don't have the time to prepare for. You can impress your guests with Nigella's ice cream cake that is simple and easy to make or wow them with her potato cakes and smoked salmon.
Breakfast is the most important meal of the day, but with such little time in the mornings, it can be all mums can do to grab a quick slice of toast as they run out the door. However, Nigella's breakfast bruschetta,chocolate croissants or her orange French toast recipe will change the way you feel about breakfast.
For the nights when you can't face hours in the kitchen, her instant calmer recipes will be an instant hit. Recipes includes rib-sticking stir fry or why not enjoy her high-speed hamburger with fast fires for a really delicious treat.
Inkeeping with the fast food cooking, Nigella's recipes are written a matter-of-fact and are easy to follow and understand making coking so much easier and enjoyable.
This is definitely a book for mums who break out into a sweat at the thoughts of spending hours in the kitchen every evening or for those who simply don't have the time but nor do they want to compromise on taste.