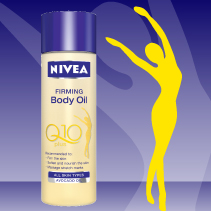 Irish mums have been using NIVEA skincare products for years, whether it's been their shower cream, moisturisers, sun cream, or, perhaps more recently, their anti-wrinkle products. This trusted brand has always taken the very best care of our skin, and now NIVEA, Ireland's No.1 Skincare brand **, are adding a new product to their range, NIVEA Firming Body Oil Q10 Plus. This is the perfect product for mums who want to bring firmness and elasticity back to their skin.
This addition to the much loved Body Q10 range can be used all over the body to nourish and soften the skin. It also absorbs quickly so is perfect for time-starved mums who need to get ready quickly. NIVEA Firming Body Oil Q10 Plus includes the key ingredients Avocado Oil and Coenzyme Q10. Avocado Oil results in a deep, penetrating oil which is high in essential unsaturated fatty acids, which are vital for healthy skin. The Coenzyme Q10 supports cell renewal, improving skin's firmness and elasticity. Because this product improves elasticity, it is ideal for massaging stretch marks, making it an excellent product for new mums.
Working in harmony with your skin, the powerful formula delivers the following results:
Firms your skin in just 2 weeks
Intensively moisturises the skin
The caring formula gives you a soft skin feeling while massaging skin imperfections such as stretch marks.
NIVEA Firming Body Oil Q10 Plus has an R.R.S.P* of €9.99 and is available in pharmacies and supermarkets nationwide.
* Recommended Retail Selling Price (non binding). ** General Skincare, AC Nielsen 52 wk ending 30-10-2011