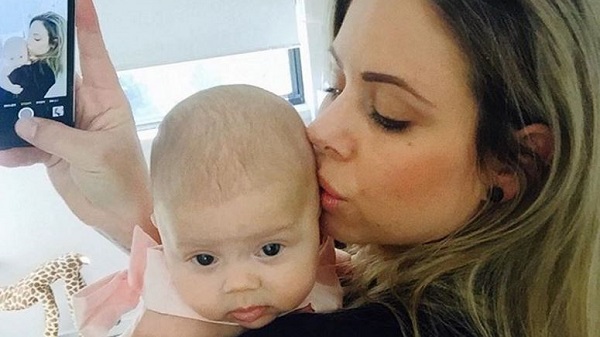 No sooner have our babies entered the world than we are subjected to scrutiny over our 'post-baby bodies'. It's unfair and totally unrealistic to expect a woman to just snap back into shape – and one mum-of-four really wants you to know this.
Cassie, of the Australian reality show The Seven Year Switch, took to Instagram this week to remind mums that it's more than OK if you're not hitting the 'target' you had hoped for with your post-baby body.
Taking to Instagram three months after welcoming daughter Mena Lee, Cassie shared a split-photo of '12 weeks pregnant versus 12 weeks postpartum' to illustrate her point.
"I would absolutely love to have my 12-week pregnancy body back in another nine months' time. But given this is now my fourth child, I am being realistic when I say that I will probably never ever look like that again!" she wrote.
Acknowledging that a great figure can sometimes be 'the first to go' when it comes to 'mummy sacrifices', Cassie added that she has adjusted her goals to suit her lifestyle as a busy mum.
"I'm taking my training one day at a time. I am not putting any crazy expectations on myself, heck I have enough stress already!" she added.
As for those mums who feel they cannot afford to take the time out to work on themselves, Cassie had some very important advice: you DESERVE that much.
"Don't ever feel selfish for taking a little time for you…YOU are the captain of your ship…If you go down, your teeny tiny crew and ship will sink too!" she advised.
Cassie's legion of fans were mightily impressed by her words, with many hailing her as 'inspiring'.
SHARE to spread Cassie's empowering message to a mum who may need to hear it.