This Christmas, Norwegian children's brand Stokke is helping to bring families closer together when sharing their festive meals. For those parents who invested in a Tripp Trapp chair from Stokke, the seating plan will be one issue they won't need to stress about.
The ubiquitous nature of social media and the trend to create clever 'hacks' to solve common problems has seen novel ways shared online to extend a family's dining capacity for Christmas. However, using garden furniture, ironing boards, and even taking a door off its hinges as a mock table-top, offer a somewhat questionable solution to seating a large family.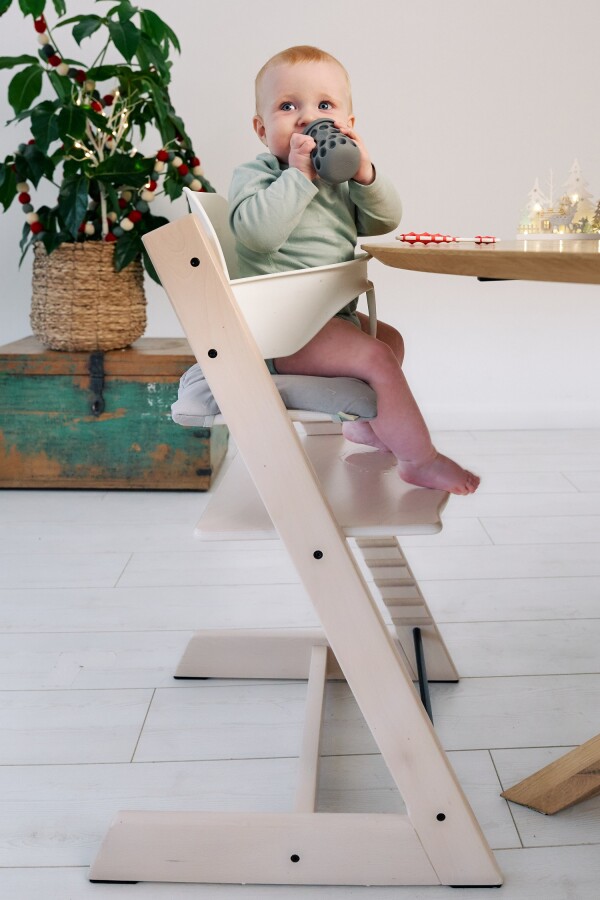 This year, sustainable Norwegian brand Stokke is keen to highlight the life-long use of their Tripp Trapp chair, from infancy to adulthood. Making it a practical solution to get everyone around the Christmas dinner table. Babies can enjoy the convivial nature of sharing a mealtime with the family at eye-level height by using the Tripp Trapp baby set accessory pack, while infants under 3-years can be seated right up to the edge of table with the baby rail in place.
Older children will enjoy the freedom of climbing on and off the chair with its anti-topple features, and since the chair has been tested for use up to 136kg, it's the perfect solution for adults too. This isn't a 'hack', simply use the supplied hex key to loosen the bolts down the side of the chair to allow the seat and the footrest to easily slide out, then swap the child seat baseplate with the footplate for a wider seat in adult use. The bolts are then tightened after the plates have been readjusted for comfortable and ergonomic seating.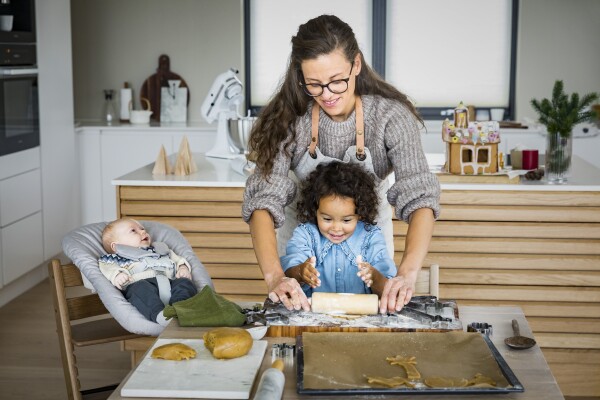 Parenting Expert, Laura Erskine commented:
"Christmas is such a joyous occasion where we all look forward to feasting together as a family. Of course, having your loved ones from near and far visit is wonderful, but it can present challenges to the host."
"I love how the Tripp Trapp chairs from my own three children can still be used to seat both young and old. There are no highchairs in our house, the flexible nature of the Tripp Trapp chair means it is used at the dinner table, in the home office and at the homework desk in my children's bedrooms. They've paid for themselves a few times over at this stage!"
Making sure Christmas dinner is special for every member of the household, the award-winning Tripp Trapp chair has teamed up with Irish family-feeding expert, Siobhan Berry of Mummycooks.com to create some stress-free, make-ahead festive recipes for little ones including any fussy eaters.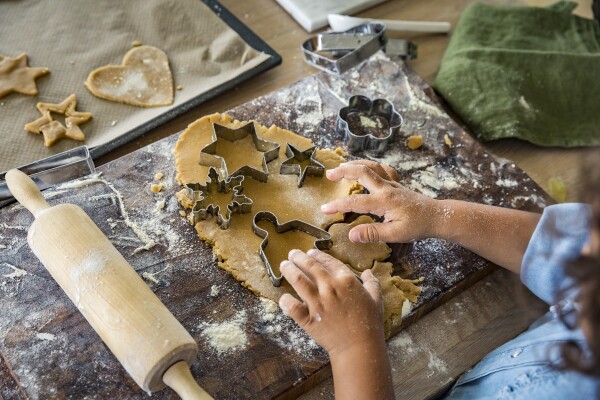 Family-feeding Expert, Siobhan Berry commented:
"The whole family will really enjoy baking my perfectly spiced, delicious Gingerbread Cookies for Santa or as a fun activity over the holidays. Little hands will love the sensory input from kneading the dough to rolling and cookie cutting. While the decoration of the cooled cookies can provide hours of entertainment and weaning babies from 12-months can enjoy their texture and flavour. When I make these with my girls, we make a small hole at the top of each cookie for a ribbon, and we hang a few on the Christmas tree."
Gingerbread Cookies
Makes: 5 x adult portions. Not suitable for babies under 12 months due to sugar content.
Ingredients:
250g Plain Flour
75g Butter
75g brown sugar
1/2 tsp baking powder
1 egg
2 tbsp maple syrup
1 tsp cinnamon
1 tsp ground ginger
Method:
Cream the butter and sugar together until light and fluffy.
Add in the egg, maple syrup and baking powder, mix thoroughly.
Sift the flour and spices in a separate bowl.
Combine the wet and dry ingredients, then shape the dough into a bowl and place in the fridge for a minimum of 30 minutes.
Roll the dough out into a thin layer and cut cookies into desired shapes.
Place on a parchment lined baking tray and bake in the oven at 180°C for 15-20 minutes until golden.
Allow to cool completely on a wire rack before decorating.

Tripp Trapp Chair
Over the last 50-years, more than 12 million children around the world have enjoyed their mealtimes using the Tripp Trapp chair from Stokke. Favoured by parents the world over, Tripp Trapp was crowned winner of Best Highchair at the Irish National Parenting Product Awards for the last two years running.
The Tripp Trapp chair comes in a variety of colour choices including a lovely 'Warm Red', that will lift the spirits even further. The wooden chair for life can also be engraved with a child's name, making it a wonderful present for under the tree.
Tripp Trapp comes with a variety of accessories including an ergonomic Newborn Set, making the chair suitable from birth through to adulthood. Made from sustainably sourced oak and beech wood in Europe, the intelligent design allows freedom of movement with both depth and height adjustable seat and footplates. The Tripp Trapp chair ensures that your child is in a comfortable seating position at every age, allowing parents and siblings to watch, interact and grow in safety and comfort, close to each other at the family table.