Minister Simon Harris addressed our children the other week with these encouraging words:
"It's going to be different this year... but that doesn't mean you can't have a good time. It doesn't mean you can't dress up in a scary costume, it doesn't mean mum or dad can't get treats in for the house or that you can't watch a spooky movie or play some games…We need you, the children of Ireland, to have and enjoy Halloween, but it'll be a different Halloween. But I know you'll understand because you've been better than even many of the adults throughout this pandemic. I'm so proud of you, and I know your parents are too"
These days, it is all about staying positive and finding alternative, safe ways to have fun. Our children have been so understanding these past few months, even though life has been unpredictable. It's important to make this Halloween enjoyable for our little ones by pre-planning some proper Halloween antics for the night that's in it. Here are our top 5 trick-or-treat alternatives for Halloween 2020.
1. Games in the front garden
Set up traditional Halloween games to play outside in the front garden. Better yet – get your neighbourhood in on it to create that spooky atmosphere that only exists on Halloween night. Each front garden will be alive with fun and games making this Halloween as normal as possible.
Because this option allows you to stay in your family unit, you and your little pod can enjoy real Halloween fun. Bobbing for apples can be done if everyone has their own bucket to bob into. Play a spooky game of hide-and-seek. Play chasing with your little ones in costumes as they screech. There are no rules in terms of noise-level on Halloween night. This will be a memorable Halloween as long as we stay positive – or positively spooky!
2. Bring back ghost stories
Back in the day, ghost stories were told on Halloween with everyone gathered around as candles flickered in a dark. On the run-up to the 31st, encourage your kids to think of scary stories. Have them do their own research – call Granny and Grandad for ideas of traditional stories that will have everyone at the edge of the seats. Pre-planning these stories will help you avoid a lull in the fun and keep things on track.
3. Spooky Zoom Quiz
The family quiz night was a real lifesaver during lockdown. Its time to bring those back and add some scary vibes. Have these centre around old Halloween traditions or Halloween movie favourites like these. The questions should be kid-friendly and not too competitive so that there are no tears. Tailor your quiz towards your kid's interests and abilities to encourage them.
4. Trick or Treat – from home
At this stage, we have learned that virtually everything can be done from home. For this fun alternative to traditional trick-or-treating, the adults in the house (or the older ones) can be the 'neighbours' standing behind each door of your home as the little ones go from room to room gathering sweets. If you want to go one step further, have some quick and easy costume changes left in each room so you can act out several different trick-or-treating destinations.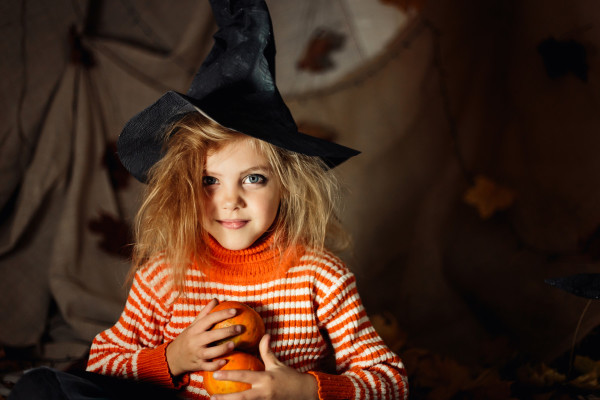 5. Halloween Treat hunt
Family egg hunts were perfectly safe at Easter so why not employ the same tactics for Halloween? Hide Halloween candy around the garden for your kids to find – easy peasy. You could add a scary pirates map to the mix if you are feeling extra-creative.
TOP TIP
Go all out when it comes to dressing up this year. Our little ones deserve a big effort from their parents this year. It will also keep your spirits up and bring out your inner child to do face paint, wigs, fake fangs - the whole shebang! Who knows, Halloween 2020 might be the best yet…
What will you do instead of trick or treating this Halloween?