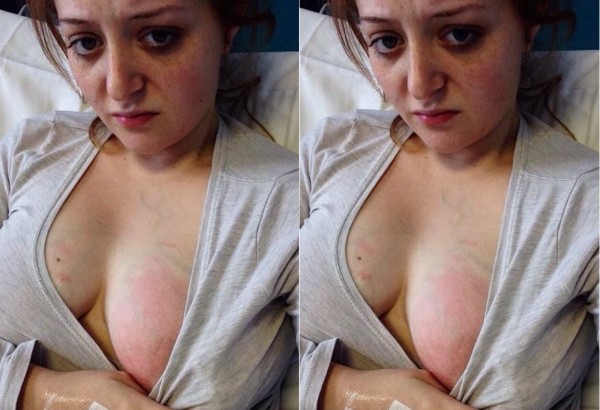 Any woman out there who has suffered with mastitis will know that it is a traumatic experience; you can also probably attest to the claims that there is not enough education or information out there surrounding it.
This is something that British mum and blogger MamaClog wants to see changed, and she is doing her part by sharing her experience with the condition, which is a breast inflammation caused by infection.
MamaClog took to Instagram to share a photo of herself in a hospital bed, her breasts red and swollen. In the caption, she revealed that after reaching the one-year breastfeeding mark, she decided to share her story with the world.
Like many other mums, breastfeeding did not come easily to MamaClog. She also didn't receive much information about nursing, and when her milk came in after five days, she didn't even really know what that meant.
"I was the only mother breastfeeding on my ward…While the other babies slept with full bellies, my son screamed and cried attached to my breast through the night," she explained.
Problems arose when she got home, with her nipple 'literally cracking in half'. She 'dreaded' each feed on account of the pain, but she kept going, regardless – and her troubles didn't stop there.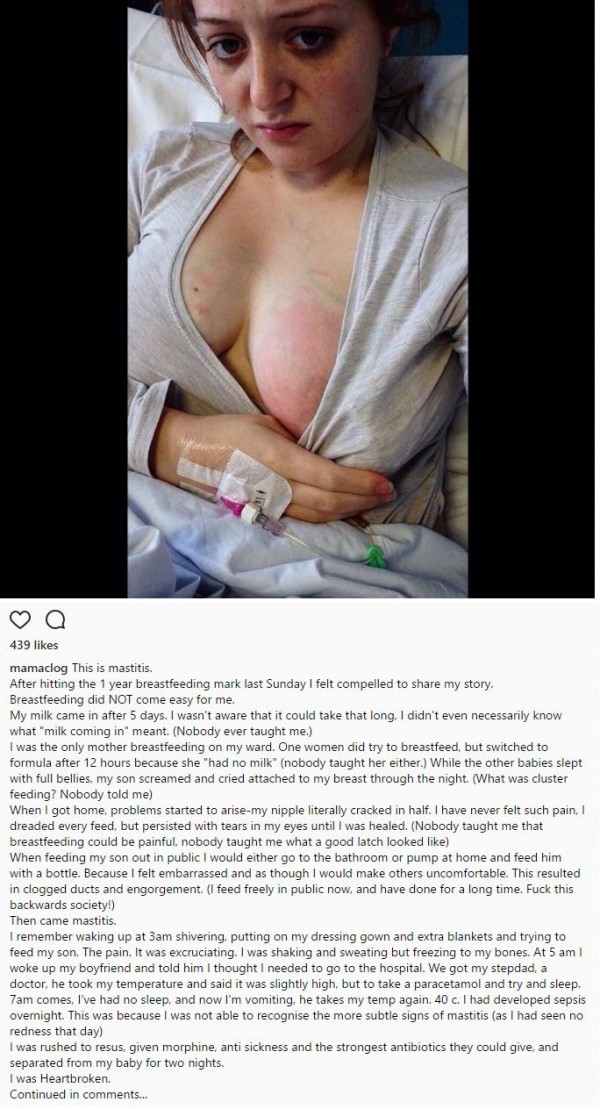 She wrote: "When feeding my son out in public, I would either go to the bathroom or pump at home and feed him with a bottle. Because I felt embarrassed and as though I would make others uncomfortable. This resulted in clogged ducts and engorgement…Then came mastitis."
MamaClog went on to share her candid account of the early onset symptoms of the condition. She recalled waking up in the middle of the night shivering, trying to feed her baby through 'excruciating pain', and sweating but being freezing at the same time.
While she initially wanted to go to the hospital, a reading of her temperature – which was only 'slightly high' – changed her mind. Instead, she took some paracetamol and went back to bed.
By 7am, however, she knew that something was very seriously wrong. She couldn't sleep, she was vomiting, and her temperature read 40C.
"I had developed sepsis overnight. This was because I was not able to recognise the more subtle signs of mastitis (as I had seen no redness that day). I was rushed to resus, given morphine, anti-sickness and the strongest antibiotics they could give, and separated from my baby for two nights. I was heartbroken," she recalled.
To add insult to injury, MamaClog's journey wasn't helped by the treatment she received when she was in hospital; when she asked for a pump with which to drain her breasts, she was told that the staff were 'having trouble finding one'.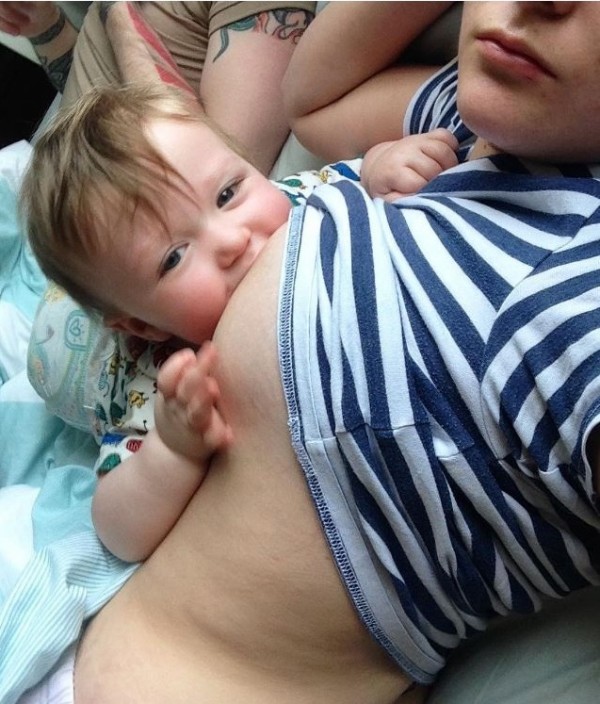 Following her traumatic experience, MamaClog wants to spread the word about mastitis and the lack of education or support for mothers who are nursing or suffering with the condition.
Here is what she wants, for every single mother: "I mean general education, about the basics of breastfeeding, about cluster feeding, about the problems that can arise and what to do, how to spot them and how to remedy them.
"Women are not expected to give birth alone, but somehow today they are expected to breastfeed alone, and not share their experience with others, and this is why so many breastfeeding relationships end before they're even really started.
"If new mothers knew just how difficult it can be at first, more would take themselves to prenatal breastfeeding classes, buy books, join forums, and ask more questions – but we don't, we just assume that it will feel as natural as breathing. Because no one ever told us."
We're sure that many of you reading this can absolutely relate to what MamaClog has gone through and is feeling. Do you agree that more information and support needs to be given to nursing mums? Let us know!
In the meantime, find out more about mastitis through this link.