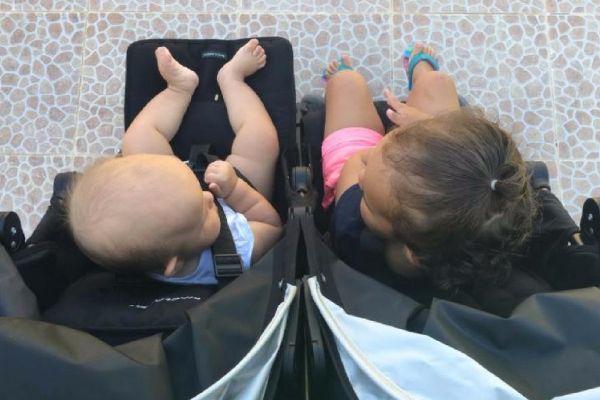 Were you more excited about being pregnant with your firstborn than your second child? If you were, you're not alone.
Many mums struggle with the thought that they may not love their second child as much as their firstborn, and others find it hard to enjoy pregnancy when they have to take care of their first child.
Mum Rasha Rushdy has penned a very honest and touching account about being pregnant with her second baby, and it has struck a chord with many other second-time mums.
Rasha addressed her little girl in the poem, saying she has to tell her the "truth" about what life was like while she was pregnant.
"My second-born baby, I have to tell you the truth. One day, you'll probably ask me about why everything wasn't bright, shiny and new for you," she wrote.
She explained that the second time around, she wasn't quite as careful about everything as she had been with her first child, alluding to "caffeine and soft cheese during pregnancy".
She admitted that she didn't have a birth plan, nor did she take weekly bump photos during her second pregnancy.
Rasha said that during her second pregnancy, she "didn't wait with bated breath for every single milestone".
She tells her daughter about "hand-me-downs", which become a normal part of life once there is more than one child in the family. After all, while the first-born usually receives a brand new wardrobe, very few of us are rushing out to buy loads of new outfits for our second child.
Like many other mums, Rasha also worried she wouldn't be able to love her second child in the same way as the first. But she was proven wrong when her newborn daughter was placed in her arms.
"The moment they placed you in my arms, with your button nose and scrunched up lips, it's as if I grew a whole new heart just for you," Rasha gushed.
"Yes, I was already someone's mother when you came into my life, but you made me a better one", she added.
The sweet poem went on to assure her beloved second daughter that she was not "an addition" to the family but "a piece that was missing".
Rasha concluded by saying that her second child makes her feel "bright, shiny and new every day".
We think is such a gorgeous way of expressing how a mum can love all of her children equally. We hope you like it too, mums.