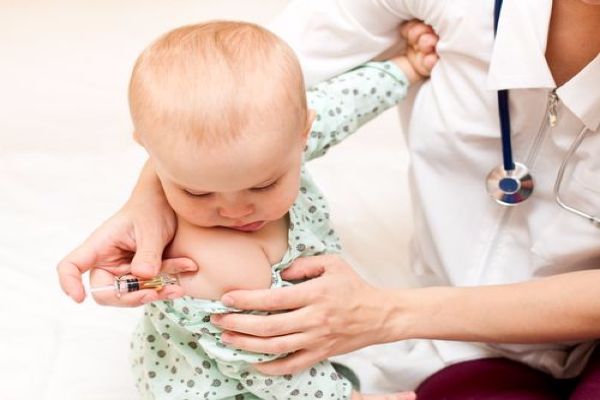 Bereaved parents who lost their babies to whooping cough are now fronting a new vaccine campaign in Australia.
Mum Toni McCaffrey who lost her baby daughter said: "Our baby Dana died of whooping cough. She was only one month old, and too young to be vaccinated."
Dana's grieving dad David explained the couple live in an area with low vaccination rates.
The parents of baby Riley Hughes also shared their heartbreaking story in the video for the new Get the Facts campaign.
"Our baby son died from a vaccine-preventable disease. Nothing can bring him back," Riley's dad Greg Hughes says.
Parents whose babies died of whooping cough urge others: "Get the facts about immunisation." https://t.co/lahnV3mp9D pic.twitter.com/IW7vZON6UK

— Mamamia (@Mamamia) August 13, 2017
"But together we can all help to prevent this tragedy to happening from other families," Riley's devastated mum Catherine adds.
Riley was just 32 days old when he died from whooping cough.
Following his tragic death, the Hughes family launched a campaign called Light for Riley, to increase immunisation awareness.
As part of their campaign work, the family has already prompted the Australian Government to extend its pregnancy vaccination programme, and they have raised $74,000 for whooping cough research.
The family also chose to donate vaccines to UNICEF Australia instead of buying Christmas presents – and they want other families to be inspired and follow suit.
Explaining the motivation behind their choice, mum Catherine said: "We committed to purchasing one less plastic toy that would probably roll under the couch and be forgotten about, and instead purchased 200 vaccines on behalf of Riley and our daughter Olivia.
"Just two days after Riley's death, the third trimester booster shot for whooping cough was introduced, something... https://t.co/fCbZTxvWC2

— NRVS (@NRVaxSupporters) August 15, 2017
"We think that by donating vaccines in honour of our children, we are not only protecting the lives of other children, we are helping to eliminate diseases from the world – maybe that will be a gift to our children's children," she added.
The Australian government have launched the $5.5 million Get the Facts campaign in an effort to encourage parents to vaccinate their children.
While 93 percent of young Australian children have received adequate immunisation, vaccination rates in some areas are still low.
Immunologist Ian Frazer said vaccination protects both the individual and the wider community.
"We still see cases of disease outbreaks, particularly in areas of low immunisation coverage, so it's important immunisation rates are as high as possible," he said, in the video.
"A parent will never know when their child may come into contact with someone who has got one of these infections."
If you have questions about whooping cough, always seek your doctor's advice.