We all want our families to get the best start to the day, and there is no better breakfast than a healthy bowl of porridge. Porridge is a fantastic 'superfood' that will warm your family up in the morning and ensure they have plenty of energy throughout the day. We also all know how easy it is to make porridge BUT sometimes it's a step too far. MummyPages mums tell us of morning chaos, struggling to get the kids out the door and how they often skip breakfast themselves. That's why we like Oatiful so much - it helps out on exactly those types of days.
Oatiful is a new delicious range of ready to heat porridge pots which makes a really easy option for breakfast. You simply pop the pot into the microwave for 2 minutes and it's ready to eat.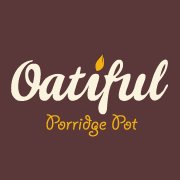 This healthy, tasty range is made with just four simple key ingredients; fresh milk, oats, water and sugar. Each pot contains a full bowl of porridge, ensuring everyone gets a great start to the day.
Oatiful is available in Original and Honey flavours, and you can find them in the yogurt aisle in the supermarket. So do yourself a favour grab a few pots for the fridge and give your day a boost - you'll be glad you did.
To learn more about Oatiful
click here
to visit their website.