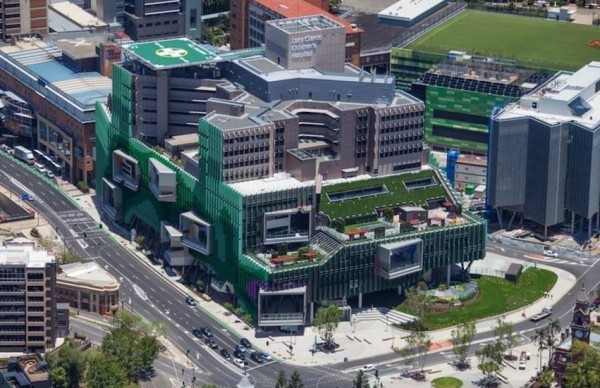 Long before An Bord Pleanála gave the green light to allow building work on the new National Children's Hospital on St James' campus to start, campaigners have been fighting to have the building located at Connolly Hospital in Blanchardstown.
The Connolly for Kids Hospital (C4KH) campaigners are concerned that there is no clinical benefit to children if it is located at James's, highlighting how Connolly is a far more superior option.
Calling for a halt to work, C4KH have written an open letter to Minister Simon Harris outlining their concerns.
"Dear Minister Harris,
The National Children's Hospital has been the subject of an intricate web of misleading information over the past decade with much being made of the matter of Adult hospital co-location. The government "justified" its 2012 choice of site by claiming improved clinical outcomes. This claim is completely untrue, as was recently confirmed on national radio by a Dolphin Group member.
In 2015 Senator Reilly publicly revealed why he, as Health Minister, had recommended St. James's to Cabinet – because children with "rare diseases", who currently travel abroad for treatment, could be treated instead by "super-specialists" at St. James's Adult Hospital. Unfortunately, these mythical super-specialists don't exist.
Children with rare diseases will, rightly, continue to be referred to appropriate overseas global paediatric centres. In contrast, extensive evidence shows that Maternity Hospital co-location matters greatly – reducing avoidable handicap and saving babies' lives.
Ireland's top 15 children's Critical Care specialists made this very clear in a letter (September 2015) – "Co-location with a physically linked maternity hospital is, in our expert opinion, non-negotiable. We are unwilling to endorse a National Children's Hospital on a site that cannot accommodate this truly critical adjacency. To do so would be to fail those infants whom we are entrusted to protect. To proceed with such a project will result in the avoidable death or disability of many new-born babies for years to come."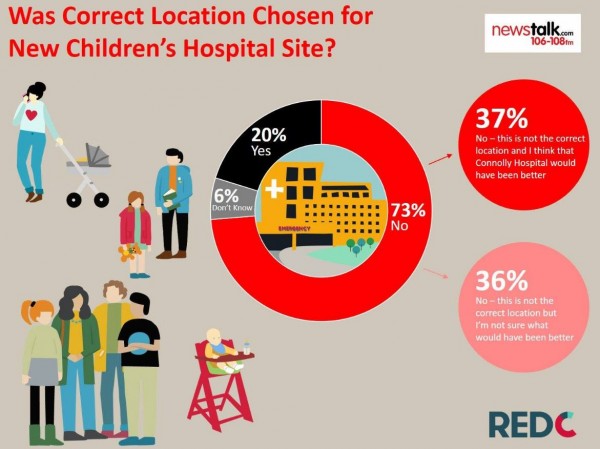 We have watched with dismay the persistent neglectful sidelining of this essential co-location, which remains a pipe-dream at the constrained St. James's campus. From the behind-the-scenes "aggressive campaigning" (Senator John Crown's words) by St James's to 'win' the Children's Hospital, to your own repeated 'fake facts' statements in parliament, one truth, Minister, is starkly evident. This decision is not about what is right for children.
The numerous problems with St James's are blatantly obvious. Located in inner city Dublin, access will be hugely problematic. The area is plagued with a major, visible, drugs problem. Parking provision is dramatically lower than that of international comparator hospitals. Everything about parking is compromised – bays, aisles, walkways.
The result – an unsafe car park for children. Unbelievably, only 8% of staff will have on-site parking, compounding the current loss of professional staff and further damaging both the adult and children's hospitals. There is no space for a ground helipad, so the Coastguard Search and Rescue helicopters cannot land. This congested campus will have 1700 beds, yet boasts only one single narrow through-road to be shared by all – ambulances, cars, taxis, buses, bicycles.
Future expansion space, a critical requirement of new hospitals, is minimal. Parkland, with its therapeutic benefits, is non-existent.
Read Our open letter today to Minister for Health @SimonHarrisTD @thephoenixmag #Connolly4Kids #NchTruth #StandUpForOurKids Read the TRUTH! pic.twitter.com/gaIdxThGB6

— Connolly for Kids (@ConnollyForKids) January 26, 2017
Contrast the 145-acre Connolly hospital campus. At the M50/N3 interchange, it offers value for money (25% less cost than at St. James's), excellent access, parking, a co-built corridor-linked Rotunda maternity hospital (essential for avoiding death or disability of new-born babies), an adult teaching hospital and extensive parkland.
It has the potential to be a superb, caring, vibrant 21st century clinical, educational and research-intensive Health Sciences Centre with, unlike the St. James's site, generous expansion space to serve its projected 100-year lifetime. Earlier this month, you stated that you intend to follow the example of the Department of Education and deliver the service where people live – well, Minister, nine out of ten children live outside the M50, as do two out of every three children in the Greater Dublin Area.
You have been told by 73% of the public (Red C poll), 20 County and City Councils, and over 60,000 citizens that St James's is wrong for children. Minister, this is so obvious. You surely must know it. Given the current national preoccupation with Brexit, there is a major danger that the St. James's project, costing the taxpayer well in excess of €1billion, will quietly be slid in under the radar.
This suicidal, dangerous project can, and MUST, now be paused. That is your responsibility, Minister. Ignore the vested interests. Demonstrate leadership and do what is right by our children.
Bring us to Connolly – Save Time, Save Money, Save Children's Lives.
From
Connolly for Kids Hospital. "