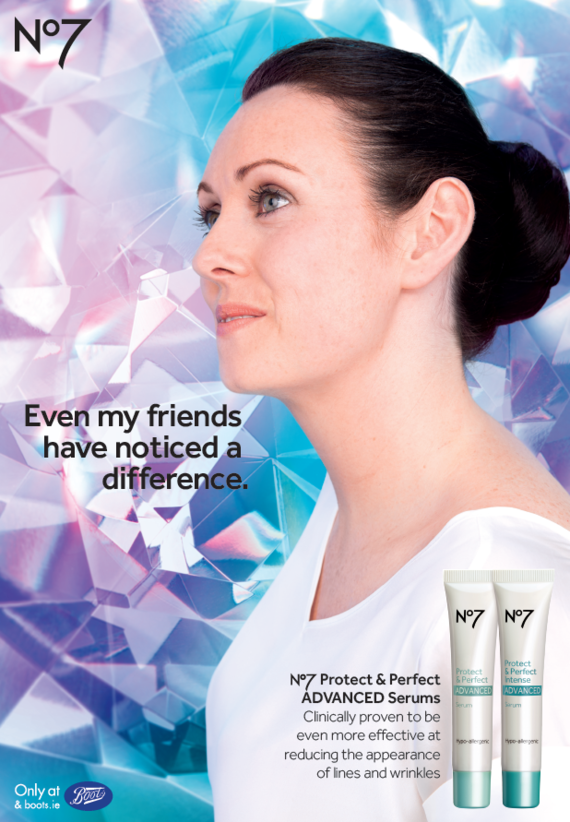 MummyPages caught up with Irish woman Orla Wardlaw, to talk about No7's new Protect and Perfect Advanced serum and whether or not it actually worked.
Almost seven years ago, No7 unleashed their Protect and Perfect serum and it became an instant hit with women looking to iron out wrinkles.
The latest addition to the No7 Protect and Perfect range has been given the same raving reviews as the original.
Orla was one of eight women who took part in the Four Weeks, No Mirrors challenge to showcase just how much the serum changes your appearance.
The women were given the appropriate serum for their skin and at the same time, all mirrors were removed from their lives so they couldn't see their face.
With the help of a personal chaperone to do their hair and makeup and drive them where they needed to go for four weeks, every opportunity to see their reflection was taken away whilst they trialled the serums.
Orla admits she felt a little sceptical about going into the challenge,
especially on
how good the product could actually be.
However, after just three weeks, Orla says she could feel changes in her skin, especially in her frown line. And while she couldn't see these changes until the four weeks was up, they were pronounced enough to be able to feel.
Orla's typical skin care regime consisted of just washing her face and moisturizing, but now she raves about the silky, soft texture of her skin thanks to the No7 serum.
Applying four pea sized amounts every morning and evening, Orla was absolutely thrilled with the results.
While she admits the biggest thing to come out of the challenge is the glow that the serum gives to her skin, she was especially thrilled when she was confident enough with her skin to go into work make-up free.